4200 Vs 5200 Marine Sealant
4200 Vs 5200 Marine Sealant Main Difference The main difference between 4200 vs 5200 marine sealants is that 5200 can…
4200 Vs 5200 Marine Sealant Main Difference
The main difference between 4200 vs 5200 marine sealants is that 5200 can be used in a wider range of applications, which makes it the best choice for most boaters. 4200 is used for bonding when the item could need to be removed or replaced in the future, while 5200 is utilized for permanent bonding.
7 to 14 days are needed to cure regular 5200. Fast cure takes 24 to 48 hours for both 4200 and 5200. The strength of 4200 is also half that of 5200, according to 3M.
4200 is a two-part epoxy adhesive that works well in a wide range of marine applications. It can be used on metals, vinyl and plastics, and other substrates such as cork, wood, and glass. 4200 has good initial adhesion and high heat resistance.
Because it is a two-part epoxy, mixing by hand is required before use, but once mixed, it cures overnight at room temperature with no catalyst needed.
Fast curing 5200 sealants have been formulated for use in harsh environments. Its excellent adhesive qualities make it ideal for attaching large items such as boat enclosures or outboard motors to their support structures.
A single coat will fill gaps up to 1/16″ thick without making any sanding necessary after installation; two coats are recommended for larger gaps or surfaces where aesthetics are important (such as high visibility areas).
Difference Table: What Is The Difference Between 3m 5200 And 4200 Sealant?
| | |
| --- | --- |
| 3M 4200 Sealant | 3M 5200 Sealant |
| It is used for temporary bonding | It is used for permanent bonding. |
| It will set like a rubber seal. | It forms a very strong seal. |
| It is weak. | It is stronger than 4200. |
| It has removability. | It is not easily removable. |
What Kind Of Sealant Do You Use On A Boat?
A modern sealant is known as 3M 5200 polyurethane. It's a rubberized sealant that can be used on the inside or outside of a boat, but it must not be used in direct sunlight. It cures by absorbing atmospheric moisture and will eventually turn white if left exposed to UV light for too long.
3M 5200 is an excellent choice for sealing small leaks and cracks in fiberglass hulls and deck surfaces. It's also great for fixing leaks around windows and hatches, as well as sealing through-hull fittings like water intake valves and fuel tank vents.
There are other types of sealants available, such as silicone caulk or polysulfide compatible with marine use, but these tend to degrade over time when exposed to UV light.
Many people use them successfully on smaller projects like replacing window gaskets or repairing small leaks on decks or hulls. However, they're not recommended for larger repairs or projects where they'll be exposed to sunlight on a regular basis.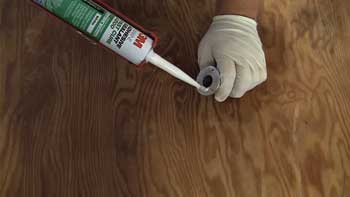 Read More About: Can I Use Silicone Sealant On Foam Surfboard
Can You Use 3M Marine Sealant Below The Waterline?
3M marine sealant is a two-part, solvent-based adhesive and sealant. This means it will stick to almost any surface and be waterproof once cured.
The adhesive is a high-quality urethane that bonds to wood, metal, and most plastics. It can also be used for interior bonding of panels such as plywood or particle board and glass.
The sealant portion of the product is an acrylic latex which is flexible when curing and provides a waterproof barrier against water, salt water, and other corrosives. 3M marine sealant can be used below the waterline on boats with wood hulls or fiberglass above the waterline.
It can also be used on boats with steel or aluminum frames if they are properly primed before application.
4200 Marine Sealant Review
The 3M Marine Adhesive Sealant 4200 Fast Cure is a multi-purpose, high-strength adhesive sealant that bonds well to fiberglass, aluminum, and steel. It cures quickly and is resistant to water, salt water, and UV rays.
This product can be used for sealing joints on boats and other marine structures. It offers a long-term bond and seals out water, air, and moisture. It has a flexible, rubberized coating and works well on composite structures.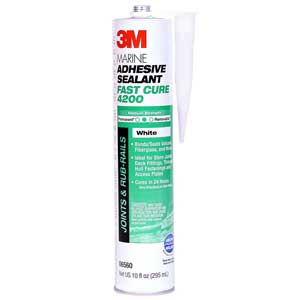 3M 4200 Marine Adhesive Sealant Fast Cure Features:
Fast cure time – dries in 30 minutes at 70°F (21°C)
Excellent adhesion – bonds well to fiberglass, aluminum, and steel surfaces
Resistant to water, salt water, and UV rays – withstands submersion in fresh or salt water for up to 2 months without curing out
Easy application – non-flammable; may be applied by brush or roller
Pros:
Non-flammable, non-corrosive, water and air-tight
The flexible rubberized coating is easy to apply
Surface and wear resistant
Weatherproof and durable
Cons:
The sticky texture may cause a stickiness problem on lighter colors
Some colors may not be completely cured after 5 to 6 coats
What Is 3m 4200 Sealant Used For?
3M 4200 Marine Sealant is a one-part polyurethane sealant that forms a flexible, waterproof seal.
One-part polyurethane 3M 4200 has a quick cure time and reacts chemically with moisture to form flexible, strong connections to fiberglass, gel coat, and wood. On joints and boat gear both below and above the waterline, it creates waterproof, weatherproof seals.
3M 4200 Marine Sealant bonds well to most substrates including metals. It's ideal for sealing holes in fiberglass hulls or decks where leaks are present, on the deck around thru-hull fittings, where fasteners pass through the hull, and for securing wood trim around hatches.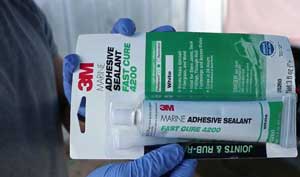 How Do You Use 4200 Sealant On A Boat?
4200 sealant is a water-repellent, flexible sealant that can be used on a variety of surfaces. It can be used as a protection layer for boats and other vessels, as well as for decks and hardware. There are many different types of sealant, and each has its own unique properties.
Here are four tips for using sealant on your boat:
1. Apply sealant evenly. Too much or too little sealant can lead to problems down the road. Apply sealant evenly to all areas of the boat that need protection.
2. Use a caulking gun or spray bottle. Sealants can be applied with a caulking gun or a spray bottle. Both methods work well, but using a caulking gun is easier than using a spray bottle.
3. Wait until the sealant dries before you go out on the water. Wait until the sealant has dried before you go out on the water, or else you risk damaging the decking or hull of your boat.
FAQ
Is 3M 4200 waterproof?
Yes, 3M 4200 is waterproof. It is applicable both above and below the waterline. Even if the boat is in salt water or fresh water, 3M 4200 will not deteriorate.
How long does 4200 Fast cure take to cure?
4200 Fast Cure Marine Adhesive is a two-part epoxy system that has a working time of approximately 20 minutes, so it can be used on the boat and in the field.
However, the curing process takes 24 to 48 hours and requires a minimum temperature of 70 degrees Fahrenheit. The product cures a strong bond that is resistant to water and most petroleum products.
How long does it take for 3M 4200 to dry?
3M 4200 Building Sealant is a high-performance sealant that bonds well to many different materials, including concrete, wood, and masonry. It is also resistant to water and weathering.
The manufacturer recommends that you wait 24 to 48 hours before applying the second coat of 3M 4200. This will allow the first coat to completely dry and bond with the surface being sealed.
Is 3M 4200 paintable?
3M 4200 is not paintable, and you cannot paint it over. The 3M 4200 is a marine sealant that is very durable and waterproof. It is great for use on boats, RVs, and other marine applications.
The problem with trying to paint over the 3M 4200 is that you will have to remove all of the old sealants first before you can paint over it.
How do I remove 3M 4200 from fiberglass?
It might be quite difficult to get 3M 2400 on your fiberglass deck. There are a few options if you find yourself having to clear excesses.
If the material is moist, we advise using acetone to clean it. If the compound has set, we advise removing it off the non-skid cautiously with a razor knife or a hard plastic pick.
How do I clean my 3M 4200?
Cleaning your 3M 4200 is easy. You can clean the film with a damp cloth or paper towel. For tough stains, use acetone to rub away any residue.
The only time you should not clean your film is when it's curing or drying. This will reduce the strength of the adhesive and make it less effective at bonding with the surface.
What will remove 3M 4200?
Acetone will remove 3M 4200 from most surfaces, but it takes some effort and patience. Apply the acetone with a paper towel or rag, rubbing firmly over the surface of the 3M 4200. Continue applying acetone until all of the adhesives have been removed from your surface.
How do you get 4200 off your hands?
You can use shaving cream and a scrub brush to remove 4200 marine adhesive. Shaving cream is an inexpensive, non-toxic way to remove 4200 marine adhesives. It's also a safer option than solvents or chemicals that can damage your skin and even your health.
Simply apply the shaving cream to the area where you want to remove the glue, let it sit for a minute or two, and then scrub with a brush. The adhesive should come off easily with little effort.
How do you remove 3M marine sealant?
You need to thin down the 3M 4200 sealant with a razor blade before applying the Motsenbockers Lift Off. Due to the fact that it was vertical, I just continued rotating the material to maintain it on the sealant for approximately a minute and a half.
After that, you will discover that it is quite simple to remove with a fingernail.
How long does it take 3M 4200 to cure?
It usually takes 24 to 48 hours for 3M 4200 marine adhesive to cure completely. The 24 hours usually depends on the thickness of the application, but in general, it will take around that time. 48 hours is the most accurate time to wait for 3M 4200 to cure.
Is 3M 4200 Sandable?
Yes, the 3M 4200 marine adhesive is sandable. It means that you will be able to grind and sand away any imperfections in the adhesive.
5200 Marine Sealant
3M™ 5200 Marine Sealant is a high-strength, fast-curing, epoxy-based sealant that can be used below or above the waterline.
The 5200 formula offers excellent adhesion to all substrates, including metal, wood, and concrete. The transparent gel formula allows for easy inspection of the surface during application and cure. It is impervious to water, gasoline, and most chemicals.
High-strength, fast-curing, epoxy-based sealant for use above or below the waterline to bond metal, wood, concrete, and other substrates. Application temperature range: 50°F (10°C) to 100°F (38°C).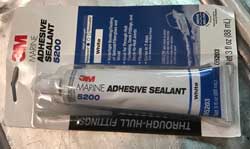 What Is Marine Adhesive Sealant 5200?
For the long-term bonding of wood, gel coat, and fiberglass, 3M 5200 is a single-component, gap-filling, moisture-curing polyurethane. When it dries, the seal on boat gear and joints, both below and above the waterline, becomes solid, springy, and impermeable.
The adhesive sealant contains no solvents or volatile organic compounds (VOCs). It can be used for interior or exterior projects where good adhesion to a variety of surfaces is required.
3M Marine Adhesive Sealant 5200 has a working time of up to 30 minutes depending on temperature and humidity before full cure occurs in 24 hours. The adhesive will not shrink once cured but will become more rigid as it ages.
5200 Marine Sealant Review
3M Marine Adhesive Sealant 5200 is a high-strength, fast-setting, clear epoxy windshield sealant. It cures a rigid rubber that provides excellent resistance to harsh chemicals, including salt water.
The sealant is easy to apply using the included applicator tip or a caulk gun. The sealant flows easily, so you can fill in small gaps and cracks without applying too much pressure. When cured, the epoxy fills gaps up to 1/8″ (3mm) wide and 0.25″ (6mm) deep.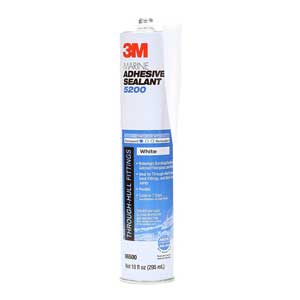 The adhesive seals up windshields and other exposed glass surfaces to prevent water from leaking inside the boat or RV. You can also use 3M Marine Adhesive Sealant 5200 for sealing holes in fiberglass gel coats or wooden decks.
Features:
Bonds to a variety of substrates, including wood, metal, and glass
Fast cure time (30 seconds) allows for quick assembly and repair
High strength after cure allows the bond to withstand extreme pressures and temperatures
Pros:
Easy to use
Excellent durability
Ideal for repairing small and large holes in boats, RVs, glass, and much more
The applicator is easy to use; just point and squeeze like a tube of toothpaste
Cons:
3M Marine Adhesive Sealant 5200 is unsuitable for applications with temperatures exceeding 80 degrees Celsius.
3m 5200 Marine Sealant Instructions
Marine sealant is a chemical that is used to protect the hulls, decks, and other surfaces of boats from water damage. It is also used to prevent corrosion. Marine sealant should be applied every 3 months, as needed.
To apply marine sealant, follow these steps:
Clean the area to be treated with a solvent or dry cleaning agent. Be sure to clean all of the residues off the surface of the boat.
Open a container of marine sealant and squirt it onto an applicator pad.
Wipe the surface of the boat with the applicator pad in a circular motion. Be sure to cover all of the areas that will be treated.
Allow the marine sealant to dry for at least 24 hours before sailing or operating your boat in the water.
3m 5200 Marine Sealant Removal
If you're not familiar with 3M 5200 marine sealant, it is a clear adhesive that has been used for decades to bond many different materials together. It is often used to repair boat bottoms, and it can be found in the plumbing section of your local hardware store.
It has an excellent reputation for being waterproof and extremely durable but can be difficult to remove when you want it gone. There are several methods that can be used to remove 3M 5200 Marine Sealant once you no longer need it in place.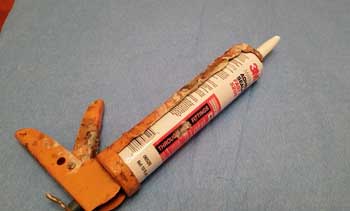 FAQ
How long does it take marine 5200 to dry?
It usually takes marine 5200 about 12-24 hours to fully dry with no measurable shrinkage. Marine 5200 is a kind of insulation that's not as abrasion resistant as asphalt shingles. In terms of lifespan, marine 5200 usually lasts 15 to 20 years if installed properly and has a service life of 50 years.
What does 3M 5200 stick to?
3M 5200 marine sealant is a great product, but it can be a pain to remove. It's often used to seal the edges of teak decks, but once the deck is removed or the boat is sold, there's no need for it. Removing 3M 5200 marine sealant from fiberglass and other surfaces can be a challenge.
What is 3M 5200 comparable?
The 3M 5200 is only somewhat similar to other products on the market. One comes from the same company's 4200 product. Although this product and the 5200 are quite similar, the 5200 is thicker and needs more time to cure. The 4200 is an excellent option for little jobs or repairs.
Does 5200 stick to rubber?
3M 5200 marine sealant is a great product, but it can be a pain to remove. It's often used to seal the edges of teak decks, but once the deck is removed or the boat is sold, there's no need for it. Removing 3M 5200 marine sealant from fiberglass and other surfaces can be a challenge.
Does 5200 bond to aluminum?
Epoxy adhesive is the strongest glue you might use to attach your aluminum. The strength rating of each adhesive is shown below, from strongest to least strong:
Epoxies: which have a 30 MPa maximum bonding strength for aluminum
Methyl Methacrylate Adhesives: They can bind aluminum with a strength of up to 25 MPa.
What is the strongest adhesive for aluminum?
Aluminum is a lightweight metal that can be used in a variety of products. One common use for aluminum is in aircraft and construction materials. One downside to aluminum is that it can be difficult to attach it to other materials.
One common adhesive used for aluminum is hot glue. Hot glue is strong enough to attach aluminum to other materials but can also be removed easily.
Can 5200 be painted?
Yes, it can be painted. The results of a paint test show that while 5200 marines adhesive can be painted, it doesn't hold up well against lots of weight or impact and will only last for a short period of time before becoming brittle and unattractive.
Will 3M 5200 cure in cold weather?
Yes, it will! It is just like standard silicone sealant, but it has a higher consistency and can withstand colder temperatures. This is because of the better chemical structure, which allows it to perform in cold weather conditions.
The benefits are obvious when you want to fix a leaky pipe or other marine issues on your boat, but the flexibility also extends to being used as caulking material on small gaps and joints.
How long does it take 5200 to set up?
5200 Marine Sealant is a high-strength, two-component epoxy that cures at room temperature. It has a working time of 20 minutes and sets up in approximately 48 hours.
5200 Marine Sealant is ideal for use on fiberglass and aluminum boats and provides an excellent bond for all types of materials, including wood, plastic, glass, and metal.
Does 3M 5200 stick to plastic?
No, it doesn't stick to plastic! As it turns out, the magic of 3M Marine Adhesive is in its improved performance and innovation. The adhesive will stick to just about anything underwater, including non-porous surfaces like cement or metal.
In addition, its high adhesion strength allows for easy removal from hard surfaces once the bonding process is complete.
Understanding Marine Sealants
How long does it take for marine silicone to dry?
It usually takes 30 to 60 minutes for marine silicone to dry. If the silicone is ordered in a thin application, it may take longer to dry and requires longer periods of time between applications, whereas, if ordered in a thick application, it will be quicker.