Roberts 6700 Vs 3095
Sometimes, finding a suitable adhesive for your project can be a challenge. If you're familiar with their strengths, shortcomings, and…
Sometimes, finding a suitable adhesive for your project can be a challenge. If you're familiar with their strengths, shortcomings, and other benefits, you will be better equipped to make an informed decision about which adhesive to use for your project.
In this article, we will discuss Roberts 6700 vs 3095 adhesive and their pros and cons.
Roberts 6700 vs 3095 Adhesive: Main Difference
When it comes to installing carpeting, there are two major types of adhesives: solvent-based and water-based. Both types of glue are available in different strengths and formulations.
Solvent-based adhesives are typically used for permanent installations, such as commercial or residential projects requiring high performance and durability.
Water-based adhesives are typically used for temporary installations, such as hotels, schools, and offices, that require easy installation and clean-up.
Designed for the installation of indoor/outdoor carpets on the inside or outside, ROBERTS 6700 is a solvent-free adhesive. This glue is perfect for basements as well as inside patios or sunrooms.
It can also be used on asphalt shingles, tile roofs, and smooth concrete surfaces where extra bonding strength is needed. The non-flammable formula features an extended open time, so you have plenty of time to get your installation right before it sets up.
For the most challenging carpet installations, including broadloom carpet, ROBERTS 3095 is a commercial-grade carpet adhesive. For installations using direct or double bond/stick techniques, ROBERTS 3095 is an excellent adhesive.
Independent laboratories have tested this solvent-based glue to ensure its quality and performance. Developed for 90% relative humidity, the flexible product can be cut, pulled, and stretched without separation.
Roberts 6700 vs 3095 adhesive Difference Table
| | |
| --- | --- |
| Roberts 6700 | Roberts 3095 |
| 30 minutes open time | 20 minutes open time |
| 60 minutes working time | 40 minutes working time |
| 10-year direct bond limited warranty | 7 years double bond limited warranty |
| Adheres with most indoor or outdoor carpets | Adheres carpets with most backings |
| Up to 5 lbs moisture control adhesive | Up to 10 lbs moisture control adhesive |
About Roberts 6700 Adhesive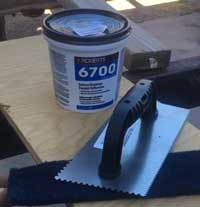 Roberts' 6700 is a premium-quality, 100% acrylic adhesive designed to provide long-lasting adhesion to a wide range of substrates. It's ideal for indoor and outdoor carpets and rugs. Roberts' 6700 has an open time of 30 minutes and cures in 24-48 hours at room temperature.
Roberts' 6700 is available in a 1:1 ratio (1 part adhesive to 1 part activator) and in liquid form. This makes it easy to mix small quantities of Roberts' 6700 adhesives when only a small amount of adhesive is needed.
When you need to apply larger amounts of Roberts' 6700 adhesives, you can buy it pre-mixed in 4-gallon pails with an activator included.
Roberts 6700 Adhesive is a professional-grade carpet adhesive designed for use on all types of indoor and outdoor carpets. Roberts 6700 Adhesive has been tested and approved by the Carpet Manufacturers Association (CMA) for use on all new carpet installations.
Roberts 6700 Adhesive Review
Roberts 6700-1 1 Gallon Indoor/Outdoor Carpet Adhesive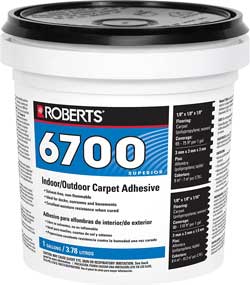 The Roberts 6700-1 1 Gallon Indoor/Outdoor Carpet Adhesive is a high-performance, flexible adhesive that bonds carpet to most surfaces. This product is ideal for indoor and outdoor installations, including carpeting that may be exposed to heavy foot traffic or high moisture conditions.
The latex rubber formula provides an excellent bond to the subfloor while allowing the carpet to be easily rolled over without damaging the backing. The adhesive has a low viscosity for easy pump ability and quick drying time. It contains no solvents, so it can be used in areas where solvent fumes are undesirable.
The adhesive is specially formulated to provide an exacting bond with carpet fibers in various applications. The low-odor formulation makes it perfect for any environment, including homes, offices, and schools.
Roberts 6700-1 Adhesive feature:
Low-odor formula
100% solids
Curing at room temperature
10-minute open time
Pros:
The latex formula has excellent adhesion to the back of most carpets
No separate primer is necessary for most applications
No drying time is required before the carpet can be walked on or rolled over
The fast cure allows you to walk on the carpet within an hour of application
Clean up with soap and water. Rinse well with clean water
Compatible with other latex systems (for example, Roberts 700 series)
Cons:
The formula is a bit sticky requiring gloves or work gloves when applying
What Is 6700 Adhesive Used For?
ROBERTS 6700 is a solvent-free adhesive created for the interior or exterior installation of outdoor or indoor carpets. This glue works nicely in basements as well as enclosed patios or sunrooms. This adhesive is also great for adhering to most indoor/outdoor carpeting.
This glue is used for the following applications:
Carpet installation: Use ROBERTS 6700 for new installations and repairs on both smooth and textured carpets. The glue holds firmly to concrete, asphalt, plywood, tile, and concrete floors.
Outdoor carpeting: Use ROBERTS 6700 to install outdoor carpeting on decks, patios, and porches where weather conditions will be less than ideal.
It works well on wood surfaces exposed to moisture and masonry surfaces where there is minimal movement or expansion and contraction due to temperature changes.
How Long Does Roberts 6700 Take To Dry?
Roberts 6700 is a fantastic hose reel that has a very good drying time. It often takes 24 to 48 hours to dry completely.
One thing to keep in mind is that the drying time depends on your environment and how you use the hose reel. If you live in a dry climate or your hose is exposed to sunlight, it will dry much faster than if you live in a humid area with little sunlight.
Using the hose reel inside an enclosed area such as a garage will take longer for the water to evaporate from the hose and reel than if you were using it outside in the open air.
Roberts 6700 Instructions For Applying
It's important to distribute the adhesive on your flooring evenly before installation. Give the adhesive up to 30 minutes of open time to tack up.
For less permeable surfaces, allow the adhesive to tack up for longer. The adhesive ridges should completely cover the base and deepest recessed areas of the flooring material. 
Place flooring into the glue during the 60-minute working window while it is still tacky and easily adheres to the flooring underlay. Temperature and humidity will affect how much free time you have and how much time you have to install the flooring.
The glue will set more quickly at hotter temperatures and lower humidity levels. Lift a corner occasionally to check if the glue is adhering entirely to the carpet's backing. Roll the carpet into glue after allowing the adhesive to start setting.
For the first 24-48 hours after installation, avoid moving heavy items and limit foot traffic to ensure that the glue has time to thoroughly cure. Installation failure may be brought on by early usage.
Can I Pick Up The Roberts 6700 Adhesive For Carpet Installation?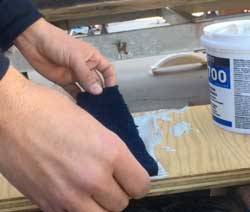 You can use the Roberts 6700 adhesive for carpet installation. You simply need to follow the instructions that came with your adhesive and adhere it to the floor.
The Roberts 6700 adhesive for carpet installation is also known as carpet glue, which is used to adhere carpeting to the floor.
The adhesive comes in liquid form and is applied directly to the floor before you install your carpet. It dries quickly, and it'll hold your carpet down so that it doesn't move around or shift once placed on top of it.
Is Roberts Adhesive Solvent Free?
Yes, Roberts 6700 is a solvent-free adhesive. It is water-based and non-toxic, making it safe for use both in the home and on outdoor projects. Roberts 6700 has a very high tack, meaning it will adhere well to a wide range of surfaces.
It also has a medium peel strength, meaning that once applied, it will be relatively easy to remove if desired.
What Is The Best Marine Carpet Adhesive?
The best marine carpet adhesive is one that will hold up to the elements and be easy to clean. Synthetic grass glue is a great choice for this type of project.
Synthetic grass glue is made from plastic, which makes it water resistant (it won't dissolve in water). It's also easy to clean, so you can hose down the area where you've glued down the carpet without worrying about damaging your boat's deck or hull.
Can Roberts Carpet Glue Be Used Outside?
Yes, it can! Roberts Carpet Glue is an all-purpose glue that can be used on hardwood floors, carpets, and area rugs. It's the perfect choice for repairs made to the backs of carpets, where the carpet pad pulls away from the floor. It's also ideal for repairing tears in carpeting edges. Roberts Carpet Glue is 100% solvent free and works great with most types of carpeting.
How To Install Indoor Outdoor Carpet On Concrete
The first thing you need to do is measure the area you are going to install your carpet. This will give you an idea of how much carpet you will need and how much it will cost.
The next step is to remove the old carpet. You can do this by using a pair of scissors or a utility knife to cut along the edges of the carpet. Once you have removed the old carpet, clean up any debris left over from its removal.
When installing indoor or outdoor carpet on concrete, ensure no holes or gaps in your concrete slab, as this can cause moisture problems later on down the line. If there are any holes or gaps in your concrete slab, fill them with mortar and allow it to dry before continuing with the installation process.
If necessary, use a sharp utility knife and score the concrete about 5 inches from where you want to place your new indoor or outdoor carpeting. This will help prevent tearing during installation.
After preparing your concrete surface, apply adhesive to it using a roller or brush according to product instructions. You may need to apply more than one coat of adhesive depending on how porous your concrete is and how much texture it has.
Let each coat dry completely before applying another one if needed. Next, place your indoor outdoor carpet over your newly scored concrete and slowly pull it back until it reaches its desired position.
Then fasten it into place using staples or nails around all four corners of each piece of indoor-outdoor carpeting and around any other areas that need securing, such as doorjambs.
When you are done, do not forget to clean up any excess adhesive that is left over from your installation. You can use a trowel to spread any excess adhesive across the surface area evenly. Then top it off with a coat of sealer or paint once it has dried completely.
The next step is to remove all the staples or nails holding your indoor or outdoor carpet in place before beginning your other floor covering installation tasks, such as padding and backing.
When you are ready to install your padding and backing, measure and cut the padding to size using a sharp utility knife, then apply adhesive to your concrete surface following the product instructions.
Be sure not to use too much adhesive as this can cause it to bleed through onto areas that should be free of any adhesive.
Next, place your indoor outdoor carpeting over top of the padding and backing again and slowly pull it back until it reaches its desired position.
How To Install Indoor Outdoor Carpet On Wood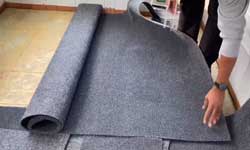 Installing an indoor-outdoor carpet on top of the wood is easy as long as you have the right tools. The steps are similar to installing a traditional rug but with some added attention to detail.
Step 1
Remove all furniture from the room.
Step 2
Use a tackless strip around the edge of your new carpet to hold it in place while you install it.
Step 3
Use double-sided tape around the perimeter of your new carpet where it meets the baseboards or walls.
Step 4
Cut off any excess length of fabric that hangs over onto other areas of the room. This will prevent fraying and help keep your floors clean!
Step 5
Apply adhesive along the edges of your new carpet and press down firmly with a roller or flatiron until it adheres completely to your flooring surface.
Step 6
Smooth down the carpet and from the center to the edges, using a flatiron.
Step 7
Prop up your furniture, and clean up any excess adhesive that might have leaked through.
How To Install Indoor Outdoor Carpet On Plywood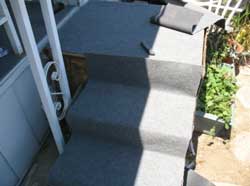 The installation of indoor or outdoor carpets is a fairly simple process. First, you will need to measure the area where you want to install your new carpet.
Once you have measured your space, lay down a piece of plywood in that area and tack it down with some nails or tacks so that it doesn't move around while you are working on the project.
Next, lay down some newspaper over the top of the plywood, and then place your indoor outdoor carpet over the top of this layer. Make sure that you leave enough room for the edges of the carpet to be folded under and stapled down when finished with your installation.
Now that all of your materials have been laid out take your staple gun and begin stapling them together along each side seam (if there are any) until they are completely attached together.
Make sure that you pull on each seam to make sure that none of them have come loose during the installation process.
Once all of your seams are properly attached together, place another piece of plywood over the top of this layer and repeat this process until all layers have been installed onto each other.
How To Install Indoor Outdoor Carpet On Stairs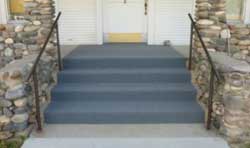 Installing indoor or outdoor carpets on stairs can be tricky, but with a little preparation and planning, the job can be completed quickly and easily. Here are some tips to help you get started:
Begin by measuring the stairs' length and the carpet's width. This will help you determine how wide the rug should be spaced apart.
Estimate how many steps there are on each side of the stairs, and make a note of this information.
Purchase an outdoor carpet that is at least as wide as the stair treads, plus a couple of extra inches for padding.
Remove any old carpeting or flooring from the stairs using a vacuum cleaner and a broom. This will make it easier to work with the new carpeting.
Cut the new outdoor carpet to size with a knife or scissors, making sure that the edges are even and that there are no folds or creases in the fabric.
Apply pressure to one edge of the carpet with your hand, then pull it taut across the top of each stair step. Pin it in place with safety pins or nails if necessary.
Roll up a small portion of each edge and staple it to the riser using a hammer and a staple gun. Then roll down the carpet and repeat with the next step on that stairwell.
Can You Use Roberts 6700 Adhesive For Boats
Yes, you can use Roberts 6700 adhesive for boats. Roberts 6700 Marine Adhesive is a one-part epoxy sealant that cures to a rubber-like consistency and has excellent adhesion to many substrates, including most plastics, wood, metal, and concrete.
It is designed to seal leaks in marine drive shafts, transmissions, and other applications where water intrusion is likely to occur. The cured sealant will not shrink or crack under pressure, and it resists saltwater corrosion.
What Are The Disadvantages Of Marine Carpet Glue?
There are a number of disadvantages of marine carpet glue. The first is that it becomes loose with time and may even deteriorate. This can be a significant concern when it comes to marine carpet glue.
Another disadvantage is that the adhesive might not be able to withstand the heat or humidity in your boat. The third disadvantage of marine carpet glue is that it may not provide an adequate seal after application, so moisture may leak into your boat through the floor.
Roberts 3095 Adhesive
ROBERTS 3095 Superior Carpet Adhesive is created for the most difficult carpet installations. It holds most commercial carpets in place with solid backings, including closed-cell backings. The formulation with high solids and high tack results in a lasting bond.
This glue is fantastic for double-bond installation techniques and has a very quick grip. ROBERTS 3095 is also used for great results for floor tile, ceramic, and quarry tile. 
The product has no odor and does not leave a sticky residue on the carpet or tile surface to cause squeaks in the flooring when changed or maintained. The adhesive formula is simple, safe, and easy to use.
It is solvent-free, has a moderate cure time, and is self-leveling. The product is non-toxic and contains no carcinogens. This adhesive is also environmentally friendly, made with no solvents for easier application and less mess. 
Pros:
This adhesive is premium quality and the best on the market.
The application of this adhesive is faster than others, and the product dries very quickly.
This adhesive is odorless, making it easy to apply without worrying about irritation from a strong odor from the glue as you spread it down onto your carpet or tile installation.
You will not have to worry about getting dirty hands and carpet or tile residue from this adhesive. It goes on very clean and easy.
This versatile adhesive allows you to place it everywhere you need it to be on your carpets or tiles.
This premium product allows you to get a perfect bond when applying it.
Cons:
This product's premium quality price is a bit higher than the others on the market.
Instruction For Applying
In preparation for applying the adhesive, clean the tile and grout surface with a household cleaner or soap and water. Rinse well with water, allow to dry completely, and then apply the adhesive.
This instruction is for applying Roberts 3095 adhesive.
Make sure the surface you are adhering to is clean and free of any oils, waxes, or other residues.
Apply a thin layer of adhesive to the desired area.
Reposition the adhesive as necessary until the desired level of adhesion is achieved.
Slightly press down on the adhesive to ensure that it is fully affixed to the surface.
Allow the adhesive to cure for at least 24 hours before using or touching the area.
How Long Does It Take For Roberts 3095 To Dry?
Roberts 3095 is a high-strength, fast-cure, general-purpose adhesive. It is suitable for use on a wide variety of substrates, including plastics, metals, and wood.
Roberts 3095 adhesive will dry in 24 to 48 hours, depending on the temperature, humidity, and air movement around the adhesive. The warmer the temperature, the faster it will dry.
How Long Does 3095 Carpet Adhesive Take To Dry?
3095 carpet adhesive is a water-based solution that is designed to prevent slippage and repel water. This product can be used to adhere carpet to concrete floors, wood subfloors, and plywood.
The drying time for 3095 carpet adhesive depends on the outside temperature, humidity, and indoor air temperature. The average dry time is 24 hours.
What Kind Of Glue do You Use For Carpet Padding?
Robert 3095 adhesive is the most popular carpet padding adhesive. Most flooring contractors use it to glue down carpet pads and stair nosing.
Robert 3095 adhesive dries to a clear finish that allows you to see the edges of your carpet pad and nosing. This makes cutting around tight corners or other obstructions in your carpet installation easy.
The glue also bonds well with vinyl, rubber, and foam carpets, as well as with other types of padding, such as fiberglass or foam rubber.
FAQ
How long does it take for carpet adhesive to dry?
It usually takes 48 hours for the carpet adhesives to dry completely. When you install new carpeting, it's important to give the adhesive enough time to dry before walking on it.
Otherwise, your carpet could be damaged. When you're installing a new carpet, you usually want to give it at least 48 hours before walking on it.
What kind of adhesive do you use for indoor and outdoor carpets?
Roberts 6700 is an indoor-outdoor carpet adhesive that bonds to a variety of substrates and provides a flexible bond. It offers excellent shear resistance and shock absorption and can be used on both indoor and outdoor carpets.
Conclusion
Looking for the perfect carpet adhesive can be tough. There are so many different options on the market, and it can be hard to know which one is right for your project. Two of the most popular options are Roberts 6700 and 3095. So, which one should you choose?
I think you have the answer now. Both 6700 and 3095 adhesives have their own benefits and disadvantages. I hope this article helps you differentiate Roberts 6700 vs 3095 carpet adhesives and choose the right one for you,