Wax Vs Waxless Toilet Seal
The main difference between wax vs waxless toilet seals is the material used for sealing. Wax seals use traditional wax…
The main difference between wax vs waxless toilet seals is the material used for sealing. Wax seals use traditional wax rings, while waxless seals employ rubber or foam gaskets. Waxless seals are less messy and easier to install, while wax seals may require careful handling.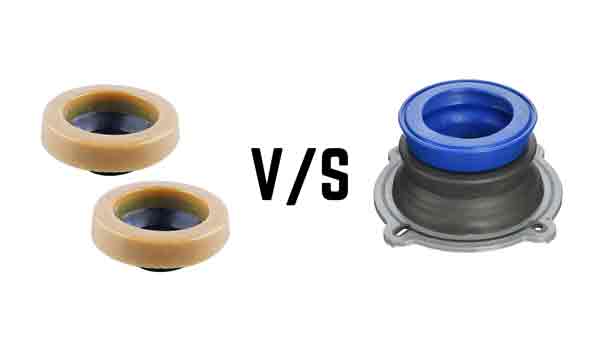 Wax Toilet Seal
A wax toilet seal is a soft, malleable ring made of wax used to create a watertight seal between the base of a toilet and the flange on the floor. It prevents leaks and odors from escaping the toilet drain.
Application of Wax Toilet Seal
Place the wax seal between the toilet flange and the toilet base.
Ensure proper alignment with the flange bolt holes.
Apply even pressure when setting the toilet in place.
Tighten the bolts to secure the toilet, compressing the wax seal for a watertight seal.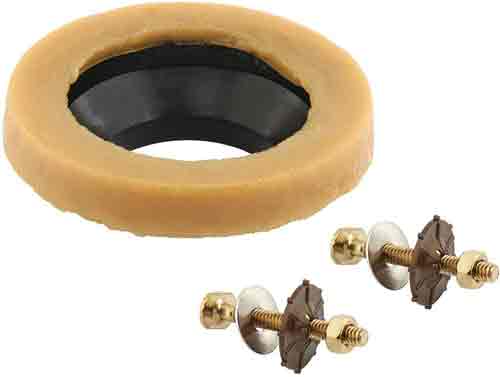 Composition of Wax Toilet Seal
Toilet seals are made from beeswax, petroleum or other ingredients. May contain additives for flexibility and durability. Often molded into a circular shape with a central opening. Some variants include a foam or rubber ring for added sealing effectiveness.
Advantages of Wax Toilet Seal
Excellent sealing capability, preventing water leaks.
Durable and long-lasting, with a lifespan of several years.
Resistant to odors and gases, maintaining bathroom freshness.
Affordable and widely available at hardware stores.
Disadvantages of Wax Toilet Seal
Once compressed, it cannot be reused and must be replaced.
Sensitive to temperature variations, potentially causing leaks.
Installation can be messy due to the pliable nature of wax.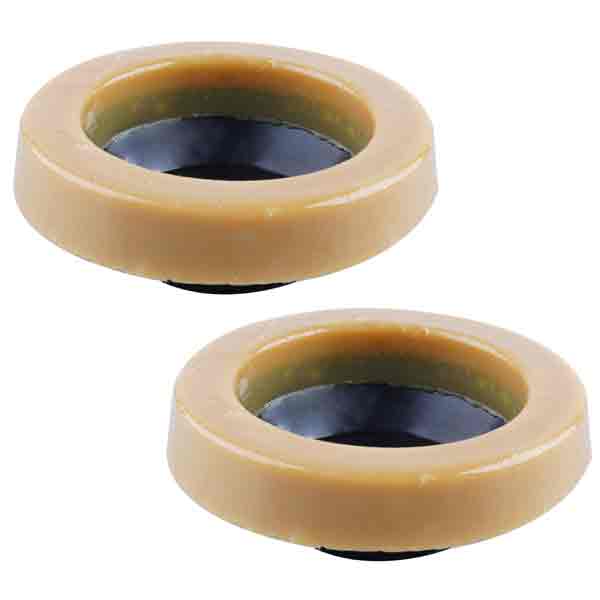 Read More About Korky Toilet Seal vs Wax Ring: Which is Better for Your Bathroom?
Wax-Free Toilet Seal
A wax-free toilet seal is a modern alternative to traditional wax rings used for sealing the base of toilets to the floor drain. It is typically made of rubber or other flexible materials and offers a more secure and mess-free seal.
Application of Waxless Toilet Seal
Installation between the toilet base and the drain flange.
Used in residential and commercial bathrooms.
Ensures a watertight seal to prevent leaks.
Suitable for both new installations and toilet replacements.
Compatible with various toilet types, including floor-mounted and wall-mounted.
Composition of Waxless Toilet Seal
Typically made of high-quality rubber or synthetic materials.
May include a foam or rubber gasket.
Some designs feature a plastic or metal collar for added stability.
Resistant to water, chemicals, and temperature changes.
Durable and long-lasting, providing reliable sealing.
Advantages of Waxless Toilet Seal
No messy wax residue or cleanup during installation.
Resistant to drying out, unlike traditional wax seals.
Provides a secure, leak-free seal.
Easy to install, making it DIY-friendly.
Can be repositioned if necessary.
Works well in various climates and temperature ranges.
Compatible with tile, wood, and concrete floors.
You can reuse it as long as it's in good condition.
Disadvantages of Waxless Toilet Seal
Generally more expensive than traditional wax seals.
Some designs may require precise alignment during installation.
In rare cases, may not fit well with irregular or uneven floors.
Limited availability in certain regions.
May not be compatible with older toilets with unique flange designs.
Regular inspections are required to ensure a tight seal over time.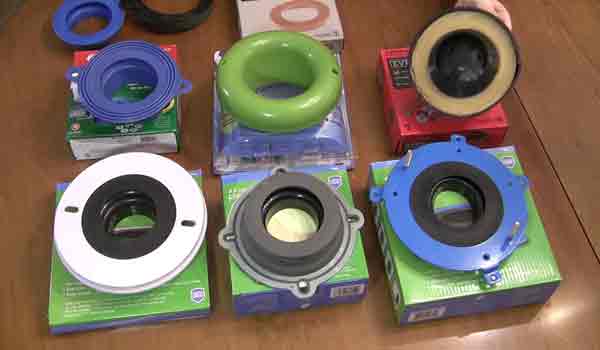 Read Also Dewalt Grease Gun Problems (Issues You Need To Know)
Comparison: Wax Vs Wax-Free Toilet Seals
Here is the comparison between wax ring vs wax free to make an informed decision:
Durability
Wax toilet seals have been the traditional choice for many years and are known for their durability. They can last longer than traditional wax toilets if installed correctly.
Wax-free seals, on the other hand, are typically made from rubber or foam materials that are less prone to deterioration over time. They offer good durability, often outlasting wax seals. If you want to install a new toilet don't choose non wax, because it only comes with a 10-year warranty. But toilet wax last longer than 20 years.
Seal Effectiveness
Both wax and wax-free toilet seals are effective at creating a watertight seal between the toilet and the flange. Wax seals provide a reliable, tight seal, but wax-free seals have gained popularity for their equally effective sealing capabilities. They create a secure barrier to prevent leaks and sewer gas escape.
Repositioning Capability
Wax toilet seals, once installed, are challenging to reposition without damaging them, making adjustments or toilet reinstallation more difficult. Wax-free seals, however, offer more flexibility as they can be adjusted or reused if necessary, simplifying toilet installation or repairs.
Maintenance Requirements
Wax seals require minimal maintenance as long as they remain intact. Wax-free seals are also low-maintenance, with the advantage of being less messy to work with during installation or replacement. Regular cleaning and inspection are essential for both types to ensure proper functionality.
Cost Considerations
Wax toilet seals are generally more affordable than wax-free alternatives. However, the price difference is often not significant, especially when considering the long-term durability and potential reusability of wax-free seals. While wax seals are budget-friendly upfront, wax-free seals may offer cost savings over time due to their extended lifespan and easier installation process.
Considerations for Choosing Between Wax and Waxless Toilet Seals
Toilet seals are essential for preventing leaks and odors in your bathroom.
Wax seals have been a traditional choice for years, but waxless options have gained popularity.
Wax seals provide a reliable, watertight seal when installed correctly.
Waxless seals use rubber or foam materials, offering easier installation without mess.
Waxless seals are reusable and can be adjusted if needed, making them more cost-effective.
Wax seals may require more precision during installation to avoid leaks.
Waxless seals are better for DIY installations as they are forgiving and less messy.
Consider the toilet's weight and floor type when choosing between the two for a secure seal.
Evaluate your skill level, budget, and preference to determine the best seal for your toilet installation.
How to Install Toilet Seal
To reinstall the toilet, start by removing the old wax ring and toilet.
Inspect the top of the flange for any damage or debris. Clean it thoroughly.
Place a new toilet seal (wax ring or wax-free) onto the flange. Ensure it's centered and sits flat.
If the toilet seal might not fit properly due to flange height, use an extender ring.
Carefully lower the toilet bowl onto the seal, aligning the mounting bolts with the holes.
Apply even pressure to compress the seal as you tighten the nuts onto the bolts.
Don't overtighten to avoid damaging the toilet or flange.
Reconnect the water supply line, turn on the water, and check for leaks.
Finally, secure the toilet to the floor and caulk around the base for a finished look.
Tips and Tricks To Use Toilet Seal
When installing a toilet, consider using a radiant heating system beneath the flooring for added comfort.
Achieving a perfect seal between the toilet and the floor is crucial to prevent leaks and odors.
While wax seals are common, they may not be ideal for all situations, especially with radiant heating.
Radiant heating can make wax seals wobbly or even cause them to break over time due to temperature fluctuations.
Opt for a thicker, high-quality wax seal or explore alternative options like rubber or wax-free seals designed to withstand radiant heating.
Regularly inspect and maintain the toilet seal to avoid potential issues that can lead to costly water damage and repairs.
Use two waxes if the flange is below floor level.
corrosive chemicals can damage the rubber seals.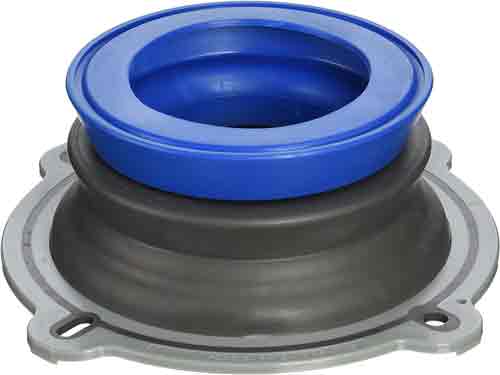 Read Also Will Wax And Grease Remover Damage Paint: Ultimate Guide
FAQs
Why do toilets still use wax rings?
Wax rings are used in toilets because they create a watertight seal between the toilet and the drain pipe, preventing leaks. They have been a reliable and cost-effective option for many years.
Is it better to put the non-wax ring on the toilet?
Choosing between wax and non-wax toilet rings depends on your preferences and needs. Non-wax alternatives like rubber or foam are easier to install and remove, but they may not provide as secure a seal.
Are waxless toilet seals good?
Waxless toilet seals can be effective at preventing leaks and are easier to work with than traditional wax rings. They are a viable option if you want a mess-free installation.
What is the best seal for a toilet tank?
For toilet tanks, rubber gaskets or foam seals are commonly used to create a reliable and water-tight connection between the tank and the bowl. The best choice depends on your toilet model.
How long do wax seals last?
Wax toilet seals can last for many years if installed correctly and not disturbed. However, they may degrade over time due to temperature changes and shifting, potentially requiring replacement.
How do I know which toilet seal to buy?
To choose the right toilet seal, consider your toilet model, drain size, and personal preferences. Consult a plumber or refer to your toilet's manufacturer recommendations for guidance.
What do plumbers use to seal toilets?
Plumbers typically use wax rings or waxless alternatives to seal toilets. They select the seal based on the specific installation requirements and the customer's preferences.
What is the difference between wax and sealing wax?
The wax used in toilet seals is a pliable substance that creates a water-tight seal. Sealing wax, on the other hand, is a decorative wax used to seal envelopes or make decorative impressions, with no plumbing application.
Is fluidmaster better than wax
Fluidmaster generally offers a more reliable and adjustable solution for preventing leaks compared to traditional wax seals, making it a preferred choice for many homeowners.
FOLLOW-UP to Toilet Flange Fix / Also, Compare Different Toilet Seals
Conclusion
In the eternal debate of wax vs waxless toilet seal, the choice ultimately boils down to preferences and priorities. While wax seals have a long history of reliability, waxless options offer convenience and easy installation. Make your decision based on your specific needs and plumbing expertise for a leak-free and worry-free toilet seal.