Loctite Blue Vs Red: Which One Is Stronger?
Loctite blue is a medium-strength threadlocker, while Loctite red is a high-strength threadlocker. Loctite blue and Loctite red are two…
Loctite blue is a medium-strength threadlocker, while Loctite red is a high-strength threadlocker. Loctite blue and Loctite red are two well-known thread lockers used in industries to provide a secure, permanent bond between threaded parts.

The main difference between Loctite Blue vs red is that Loctite Blue is easier to remove and provides medium-strength thread locking, suitable for most applications where you want to prevent fasteners from coming loose but still need to disassemble them without excessive effort.

Loctite Red offers a stronger bond but is harder to remove by hand tool, making it better suited for applications where a more robust lock is required and making it hard to disassemble components in the future.
Let's Check Threadlocker: Red or blue, which one is right for you?
Loctite Blue Vs Red Threadlocker: Comparison Table
Here's a table summarizing their key characteristics:
| | | |
| --- | --- | --- |
| Property | Loctite Blue | Loctite Red |
| Strength | Medium | High |
| Recommended Applications | General household use, automotive parts, furniture, pumps, etc. | Disassemble the components |
| Bonding Type | Temporary | Permanent |
| Variants | 242, 243, 248, 2432 | 262, 268, 271, 272 |
| Removal Procedure | Can be disassembled with household tools | Requires heat and often chemical combinations |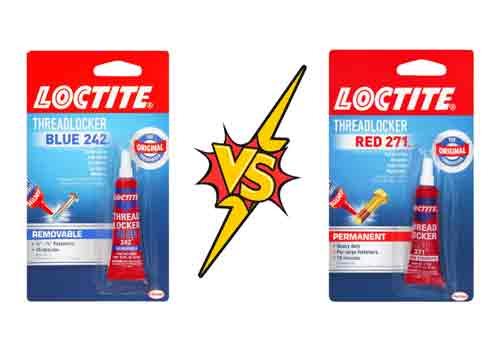 Also Read: Freestyle Libre Adhesive Patches
What Does Blue Loctite Mean?
Blue Loctite refers to a medium strength thread locker adhesive used to secure fasteners like studs, screws and bolts. It prevents them from loosening due to vibrations or stress but allows for disassembling components, making it ideal for furniture assembly, especially when using 20 mm screws.
What Does Red Loctite Mean?
Red Loctite, specifically Loctite 262, is a high strength adhesive designed for permanent bonding. It's a thread locker used to secure threaded assemblies, preventing loosening due to vibration or shock, and ensuring a secure, lasting connection.
Loctite Blue Vs Red: Application
Loctite Blue and Loctite Red are two different types of threadlocker adhesives produced by the Loctite Corporation.
What Is Blue Loctite Used For?
You can use blue Loctite threadlocker for different purposes:
For securing bolts and nuts.
It prevents leakage of fluids through thread gaps.
Blue threadlockers protect parts like car brake rotors from parts from rust and corrosion.
Resistant to vibration and shock
It aids in preventing accidental disassembly.
Quick application and cures in approximately 24 hours.
What Is Red Loctite Used For?
Red Loctite is a high-strength adhesive. You can use red for:
It is used for the permanent locking of threaded fasteners.
Commonly used in applications where high vibration or heat may cause loosening.
Ideal for securing nuts and bolts.
Provides a strong, reliable bond that is difficult to disassemble.
Offers a secure and lasting connection in various industrial and automotive settings.
Red And Blue Loctite Threadlocker: Temperature Range 
Red and Blue Loctite Threadlockers offer reliable performance in a wide temperature range, from -55°C to +150°C. Red Threadlocker can withstand temperatures up to +232°C, making it ideal for high-heat applications, while Blue Threadlocker is suitable for temperatures within the -55°C to +150°C range, ensuring secure and durable fastening in various conditions.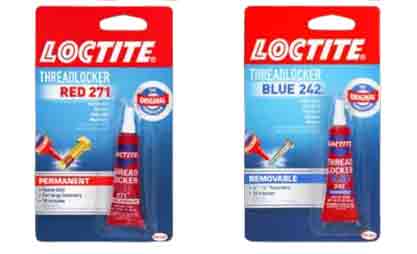 Red vs Blue Threadlocker: Durability
Both remain effective 12 months after opening and up to 24 months when unopened, ensuring reliable performance in various applications. Choose wisely based on your project needs.
Loctite 242 vs Loctite 271 Effectiveness Under Water
Loctite 242 and Loctite 271 are both effective for various applications, but they are not waterproof. Whether it is red or blue never use loctite either underwater, as they are not designed for submersion.
What Is The Difference Between Red And Blue Loctite Strength?
The difference between red and blue Loctite strength lies in their respective applications. Red Loctite is the strongest threadlocker, providing a high-strength bond. It requires localized heat to disassemble.
In contrast, blue Loctite is medium-strength, blue works well in preassembled fasteners without excessive force, and can be removed without heat, offering more versatility in assembly and disassembly tasks.
Loctite Blue Vs Red: Advantages
Loctite Blue (Threadlocker 242)
Removability: Easier to disassemble than Loctite Red, making it suitable for applications where occasional maintenance or disassembly is required.
Medium Strength: Provides sufficient resistance to high torque, vibrations and loosening while allowing for manual disassembly with standard hand tools.
Versatility: Suitable for a wide range of fasteners and materials, including metals and plastics.
Color-Coding: Blue color for easy identification.
Loctite Red (Threadlocker Red 271):
Maximum Strength: Offers the highest level of threadlocking strength among Loctite products, providing exceptional resistance to vibrations and loosening.
Permanent Bond: Designed for applications where permanent or semi-permanent assembly is desired, making it ideal for critical fasteners that should never come loose.
Limited Removability: While it can be disassembled with the application of heat and hand tools, it is more challenging to remove than Loctite Blue.
Factors That Affect The Performance Of Loctite Blue And Red
The performance of Loctite Blue and Red thread lockers can be affected by various factors, including:
Temperature: Extreme temperatures, both high and low, can impact the curing and strength of the threadlocker.
Humidity: High humidity levels can affect the curing process and may require longer curing times.
Cleanliness: Properly cleaning and degreasing the threads before applying the thread locker is essential for adhesion and effectiveness.
Surface Roughness: The roughness of the mating surfaces can influence the thread locker's ability to bond.
Amount Applied: Using too much or too little thread locker can affect its performance. Follow manufacturer guidelines for the correct amount.
Material: The type of materials the threadlocker is applied to (e.g., steel, aluminum, plastic) can impact its effectiveness.
Thread Size: Larger 22 mm or irregular thread sizes 6 mm may require different thread locker formulations.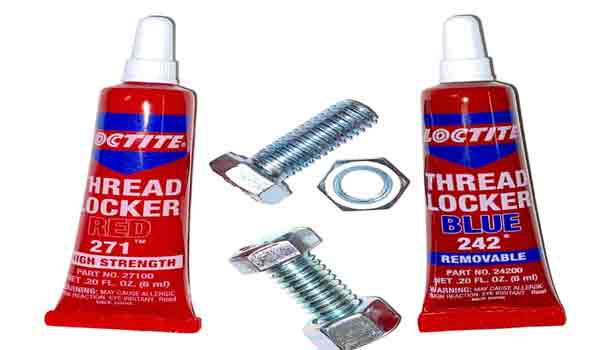 Read Also Cpvc Vs Pvc Glue : Which One is Stronger for Your Plumbing Needs?
How to Apply Thread Locker
To apply threadlocker, follow these steps:
Ensure the threaded parts are clean and dry.
Choose the appropriate Loctite threadlocker for your application (e.g., blue 242 for medium-strength).
Shake the threadlocker bottle.
Apply the threadlocker to the threads.
Use a certain amount to ensure coverage but avoid excessive application.
Assemble the parts and tighten as needed.
Allow the threadlocker to cure according to the product's instructions.
Clean any excess threadlocker for a near finish.
How to Remove Loctite® Threadlocker
Material Required
Blowtorch
Safety glasses
Chemical named cyanoacrylate
Wrench
To remove Loctite® Threadlock, follow these steps care fully:
Prepare: Ensure the threaded components are at room temperature and cured fully.
Apply Heat: Use a heat source like a propane torch to heat the threaded area evenly. Aim for temperatures around 450°F (232°C).
Apply Torque: After heating, use a wrench to apply torque in the counterclockwise direction to break the cured bond. Be patient and firm but avoid excessive force.
Clean Thoroughly: Once the threadlocker is loosened, clean the threads with a wire brush and solvent to remove any residue.
Inspect and Repeat: Inspect the components, and if necessary, repeat the process until the Loctite® Threadlocker is completely removed.
Factors to Consider When Choosing Loctite Color
When choosing the right Loctite color for your project, consider the following factors:
Material Compatibility: Ensure that the Loctite adhesive is compatible with the materials you are bonding, as different colors may have different formulations.
Cure Time: Consider the required curing time, as some colors may set faster than others.
Visibility: Opt for a color that blends well with the materials or one that provides easy visual confirmation of the adhesive application.
Temperature Resistance: Check if the selected color can withstand the temperature conditions your project will encounter.
Application Method: Choose a color suitable for your preferred application method, such as brush, squeeze tube, or syringe.
Industry Standards: Comply with industry-specific requirements that may dictate the use of specific Loctite colors.
Testing: If uncertain, conduct a small-scale test to ensure the selected color meets your project's requirements.
As with any chemical product, it's important to take certain precautions and safety measures when using loctite blue or red. Here are some of the most important ones:
Short notes
Loctite blue:
Automotive and marine repairs
Electrical and electronic repairs
Small-sized fasteners
Metal surfaces
Loctite red:
Heavy-duty applications
Engineering and construction
Large-diameter fasteners
Industrial machinery
Benefits Of Using Loctite Brand Adhesives
Loctite has been a trusted name in adhesives since 1956 and offers a range of products to meet different needs. Here are some benefits of using loctite brand adhesives:
Loctite provides a high level of strength and durability for various materials, including metal, plastic, and rubber.
Their adhesives are resistant to vibration, impact, temperature, and other harsh conditions, ensuring a long-lasting hold.
Loctite adhesives come in different forms, including liquids, gels, and pastes, making them versatile and easy to apply for different applications.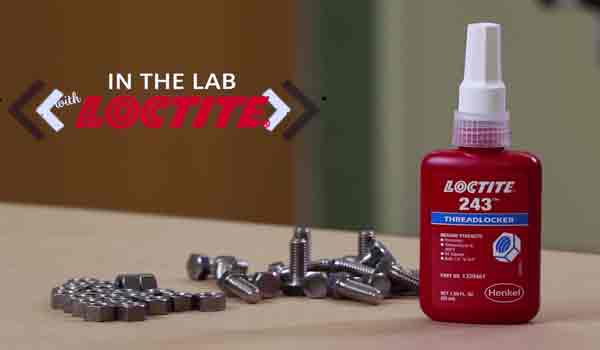 Read Also Battle of the Adhesives: Krazy Glue vs Nail Glue
Additional Resources For Learning More About Loctite Blue And Red
If you want to know more about loctite's blue and red products, there are plenty of resources available online and offline. Here are some recommended links:
Loctite's official website: Https://www.loctite.com/en/home.html
Youtube videos showcasing loctite blue and red in action: Https://www.youtube.com/results?search_query=loctite+blue+vs+red
Online forums dedicated to discussions on adhesives and their properties: Https://www.finishing.com/295/37.shtml.
Frequently Asked Questions Of Loctite Blue Vs Red
What is the weakest color of Loctite?
The weakest color of Loctite is typically purple. It represents a lower-strength adhesive compared to other colors, suitable for applications where disassembly may be required.
What breaks red Loctite 271?
Red Loctite can be broken by applying heat above 250°C (550°F). This high temperature weakens the adhesive bond, making it easier to disassemble parts.
Does WD 40 remove Loctite?
WD-40 can help loosen Loctite bonds to a certain extent but for a more reliable removal. Use certain amount of Methylene Chloride-based solvents designed for this purpose.
What is the curing time of locktite?
The curing time of Loctite varies depending on the specific product, but it typically ranges from a few minutes to around 24 hours for complete bond strength to develop.
Which Loctite threadlockers come with high adhesion strength?
Green Loctite threadlockers are known for their high adhesion strength, providing reliable and durable bonds for various applications where robust locking performance is essential.
Which is the strongest loctite?
The strongest Loctite adhesive is typically considered to be Loctite 638, a high-strength retaining compound. It's designed for applications requiring exceptional bond strength and resistance to vibration.
Can I Apply Loctite Blue Over Loctite Red?
No, you can't. Loctite red has a higher holding strength than blue and requires heat for removal. Applying blue over red will weaken the bond, causing the assembly to fail. Always use the same formula of loctite when reapplying or adjusting a joint.
How Long Does It Take For Loctite To Dry?
Loctite dries between 10 and 20 minutes, depending on the formula and the environmental conditions. The optimal drying temperature is 21°c. However, it can take up to 24 hours to achieve full strength. Avoid using the assembly until the bond is fully cured.
Can Loctite Be Used On Plastic?
Yes, loctite is suitable for use on plastic materials. However, you should choose a formula specifically designed for plastic bonding. Loctite plastics bonding system is ideal for bonding plastics, including pvc, polycarbonate, and acrylics. Always follow the instructions on the label.
Is It Safe To Use Loctite Indoors?
Yes, it is safe to use loctite indoors as long as you follow the safety precautions indicated on the label. You should ensure there is enough fresh air circulating the working area to avoid inhaling the fumes. Wear protective clothing, goggles, and gloves when handling loctite.
Also Read: Green Glue Vs Mass Loaded Vinyl
Conclusion
After thoroughly discussing loctite blue and loctite red, it is clear that both products are effective in their own ways. Loctite blue is ideal for small screws, bolts, and nuts, while loctite red is suitable for larger bolts and studs.
However, it's important to note that loctite red requires heat to be removed, whereas loctite blue can be removed with a standard tool. Understanding the specific needs of your project is crucial to selecting the appropriate loctite product. In terms of performance, both options provide excellent results in preventing loosening and leakage.
In conclusion, when it comes to adhesive solutions, the choice between Loctite Blue vs Red can make all the difference for a better experience. Selecting the right one ensures your projects stay secure and dependable.