Battle of the Adhesives: Krazy Glue vs Nail Glue
Both nail glue and super glue contain cyanoacrylate type of adhesive. The main difference between Krazy Glue and nail glue…
Both nail glue and super glue contain cyanoacrylate type of adhesive. The main difference between Krazy Glue and nail glue is their intended use. Krazy Glue is a general-purpose adhesive for various materials, while nail glue is specifically designed for bonding artificial nails and nail art applications.
Difference between Nail Glue and Krazy Glue
Here is the difference between a nail and super glue:
| | | |
| --- | --- | --- |
| Characteristic | Krazy Glue (Super Glue) | Nail Glue |
| Main Ingredient | Cyanoacrylate | Nail glue contains Cyanoacrylate and nail glue has lower concentrations of alcohol |
| Viscosity | Thicker and stronger | Thinner, designed for nails |
| Skin Safety | Not safe for the skin | Generally safe for the skin when used on nails |
| Nail Benefits | Does not promote nail growth | May contain ingredients to aid nail growth |
| Strength | Very strong | Designed for bonding nails, not as strong |
| Toxicity | Slightly toxic | Generally less toxic when used as intended |
| Water Resistance | Becomes weak when exposed to water | Less affected by water exposure |
| Hand Wash-Safe | Not hand wash-safe | Typically hand wash-safe |
Battle Of The Adhesives: Krazy Glue Vs Nail Glue
Two of the most well-known adhesives in the market are krazy glue and nail glue. In this section, we will dive into the debate and differences between these two adhesives, along with their historical background and coherence.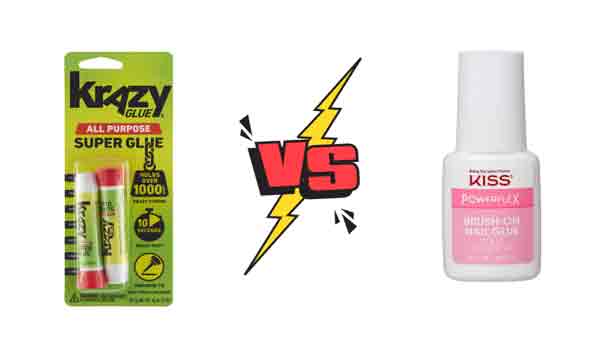 Krazy Glue vs Nail Glue: Comparison
Let's have a look at the nail glue vs super glue comparison.
Composition And Ingredients
Ingredients in nail glue are designed primarily for adhering to artificial nails. It typically contains cyanoacrylate and sometimes photo-bonded methacrylate a fast-setting adhesive. Krazy Super Glue, on the other hand, wasn't made specifically for nails and usually consists of cyanoacrylate.
Bonding Strength
In terms of bonding strength, Krazy Super Glue tends to be stronger than nail glue, making it ideal for general household repairs. However, nail glue is strong enough to attach artificial nails securely.
Drying Time
Krazy glue, with its specialized formulation, typically dries in a quick 2-6 minutes, making it ideal for speedy manicures. In contrast, Nail Glue takes a longer 15 minutes to set. Nail glue's faster drying time is specifically designed for use in nail applications.
Flexibility And Versatility
Nail glue offers the flexibility needed for attaching artificial nails, catering to the intricate contours of your nails. It's designed with nail enhancements in mind. Krazy Super Glue, on the other hand, wasn't made specifically for nail use and lacks the same level of flexibility, making it less versatile in nail-related tasks.
Compatibility With Different Nail Materials
Nail glue is specially formulated for nail applications, ensuring it bonds effectively with various nail materials, including acrylic and press-on nails. Krazy Super Glue, although versatile, may not offer the same precision for nail-specific use, potentially leading to uneven or messy applications.
Durability
Nail glue typically provides a strong bond that can last for up to two weeks, ideal for keeping your nail enhancements securely in place. Krazy Super Glue, while offering a durable bond for general purposes, may not be as tailored for extended wear on nails. Nail glue's specific formulation helps maintain a longer-lasting manicure.
Read Also https://glueanswer.com/does-krazy-glue-work-on-metal
Water Resistant Ability
Nail glue is designed to be water-resistant, allowing your nail enhancements to withstand exposure to everyday activities and occasional submersion. Krazy Super Glue offers water resistance too, but nail glue is optimized to resist water-related challenges for a more reliable and extended nail bond.
Advantages Of Using Krazy Glue
Krazy Glue, a popular type of adhesive, offers several advantages
Quick Bonding: Bonds in seconds, reducing waiting time.
Strong Adhesion: Creates a durable and long-lasting bond.
Versatile: Works on various materials, from plastic to metal.
Precise Application: Comes with a precise applicator for accuracy.
Convenient Size: Available in portable, easy-to-use containers.
Clear Finish: Leaves no visible residue, maintaining aesthetics.
Multipurpose: Suitable for various DIY, repair, and craft projects.
Resistant: Holds up well under heat, moisture, and most chemicals.
Reliable: Trusted by professionals and DIY enthusiasts worldwide.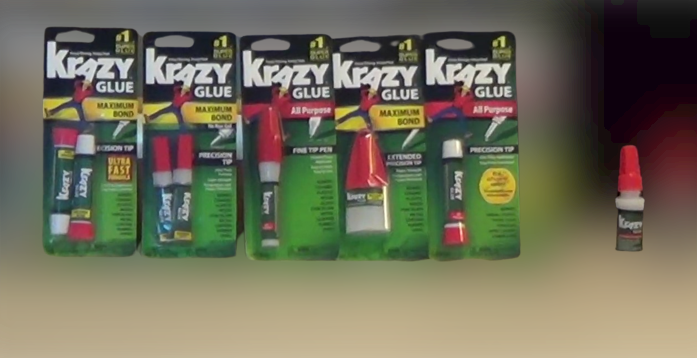 Read More About https://glueanswer.com/how-long-does-it-take-krazy-glue-to-dry
Advantages Of Using Nail Glue
Strong Bond: Nail glue forms a powerful bond, holding acrylic nails securely in place.
Quick Application: Applying nail glue is quick and easy, saving time compared to traditional nail adhesives.
Long-Lasting: The bond created by nail glue can last for weeks, ensuring your acrylic nails stay in place.
Less Likely to Damage Nails: Nail glue is less likely to damage natural nails than some other methods.
Skin-Friendly: Designed for use on skin and nails, it's generally safe for application.
Professional Finish: Provides a professional-looking finish for your manicure or nail art.
Application Of Krazy Glue
Krazy Glue is a type of glue known for its quick bonding properties.
Use super glue for repairing small household items like ceramics, glass, and porcelain.
Suitable for fixing jewelry, including metal, plastic, and gemstone pieces.
Helpful in crafting projects, bonding materials like wood, fabric, and foam.
Effective for temporary fixes on shoes, sealing minor cuts or wounds.
Used in model making, and assembling miniature components.
A handy tool for DIY enthusiasts and professionals alike.
Application Of Nail Glue
DIY Nail Glue: Create your own adhesive with household items.
Press On Nails: Apply nail glue to attach press-on nails securely.
Use for Fake Nails: Ideal for affixing artificial nails for a quick, stylish manicure.
Nails to Natural Nails: Repair broken nails by bonding the pieces together.
Broken Nails: Salvage cracked or chipped natural nails with nail glue.
Secure Attachment: Ensure a strong, long-lasting hold for your fake nails.
Quick Fix: Instantly repair or enhance your nail appearance with nail glue.
Versatile Adhesive: Suitable for various nail art applications and repairs.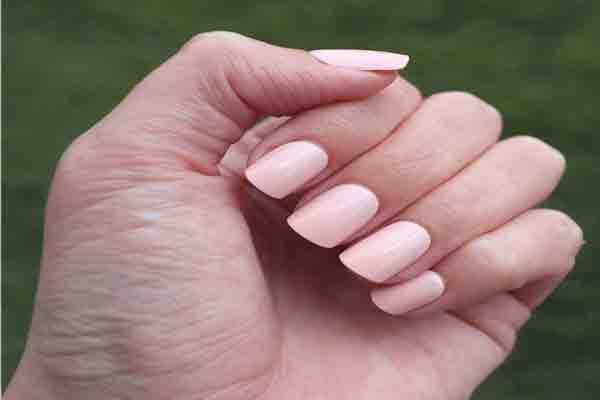 Factors Influencing The Drying Time Of Super Glue Vs Nail Glue
Chemical Composition: Super glue (cyanoacrylate) and nail glue (typically ethyl cyanoacrylate) have different chemical compositions that affect their drying times.
Viscosity: Nail glue tends to be thicker and more viscous, which can lead to longer drying times compared to the thinner consistency of superglue.
Application Amount: The amount of glue applied can impact drying time, as thicker layers take longer to dry.
Temperature and Humidity: Both glues dry faster in warm, dry conditions, but superglue is generally more sensitive to humidity.
Bond Strength: Longer drying times often result in stronger bonds for both types of glue.
Read More about https://glueanswer.com/how-to-apply-acoustic-sealant
Tips And Tricks For Using Nail Glue Effectively
Avoid using super glue on your nails it could damage your nails
Start with clean, dry nails by dehydrating your nails with a nail prep solution.
Apply nail glue sparingly onto the natural nail to avoid excess glue seeping onto the skin.
Use a fine-tip applicator for precise application, reducing mess and ensuring accuracy.
Ensure your nails are free from oil and residue, as this can hinder adhesive strength.
If you make a mistake, sticky nail tabs are easy to use for repositioning without damaging your nails.
Press down firmly but gently on the false nail to secure it, holding for a few seconds to ensure a strong bond.
Wipe away any excess glue that squeezes out with a clean nail brush or cotton swab.
What Will Happen If I Use Krazy Glue On My Nails?
Krazy Glue super glue wasn't made; it can damage your natural nails, causing brittleness and weakening. Instead of nail glue, opt for products specifically designed for nail bonding. The reasons why you shouldn't use super glue on nails include potential harm and unsightly results.
How Do You Remove Nail Glue?
To remove super glue from nails:
Soak your nails in warm, soapy water for a few minutes to soften the glue.
Gently use a nail buffer to remove the softened glue, being careful not to damage the nail bed.
If glue remains, try using a nail polish remover containing acetone. You can't remove glue from nails without acetone.
Soak a cotton ball in the remover and rub it over the glued area.
Continue until the glue is gone, then wash your hands and apply nail polish if desired.
Avoid peeling off the glue to prevent nail damage.
Nail glue can be an outstanding alternative to regular super glue in many cases.
FAQs
Can I Use Krazy Glue For Skin?
Krazy super glue isn't designed for skin use. It can cause irritation, and safer alternatives like medical-grade adhesives or bandages should be used for wound closure.
Is Nail Glue Safer Than Acrylic?
Nail glue is generally safer than acrylic for DIY nail applications. Acrylic involves chemicals that may require professional handling due to potential skin and respiratory issues.
Is Krazy Glue Washable?
Krazy Glue is not washable. Once it sets, it forms a strong bond that is not easily removed with water.
Do Doctors Use Krazy Glue?
es, doctors sometimes use medical-grade cyanoacrylate (similar to Krazy Glue) for certain surgical procedures like closing small wounds or incisions.
Is super glue and nail glue are Same
Super glue and nail glue are similar but may have different formulations. Nail glue is designed for attaching artificial nails, while superglue is more versatile but not intended for cosmetic use.
Which Glue Is Best For Stick Fake Nails?
Nail glue specifically designed for fake nails is the best choice, offering strong adhesion without harming your natural nails.
Is it OK to use Gorilla Glue on nails?
Gorilla Glue is not recommended for nails. It's a strong adhesive meant for other materials and may cause damage or harm to your nails or skin if misused.
Conclusion
In the battle of Krazy Glue vs Nail Glue, it's clear that both have their unique strengths. Choosing the right one ultimately depends on your specific needs and preferences. Overall, krazy glue and nail glue both serve the purpose of bonding materials quickly and effectively. While krazy glue provides a strong bond for non-porous materials, nail glue offers a milder and more flexible hold for use on nails and skin alike.