Krazy Glue Vs E6000: The Ultimate Showdown of Adhesive Powerhouses
Krazy Glue is a quick-bonding cyanoacrylate adhesive, ideal for small, precise projects. E6000 is a versatile industrial-strength adhesive known for…
Krazy Glue is a quick-bonding cyanoacrylate adhesive, ideal for small, precise projects. E6000 is a versatile industrial-strength adhesive known for its flexibility and durability, suitable for a wide range of materials and applications, offering a stronger and more flexible bond than Krazy Glue.
Krazy glue is one of the most popular and widely used adhesives in the market.
Difference Between Krazy Glue Vs E6000
Here's a short table outlining the main differences between Krazy Glue and E6000:
| | | |
| --- | --- | --- |
| Aspect | Krazy Glue | E6000 |
| Type | Cyanoacrylate glue | Multi-purpose adhesive |
| Bond Strength | Very strong and fast | Strong and flexible |
| Drying Time | Quick (seconds) | Slower (minutes) |
| Use | Great for quick fixes | Versatile, various materials |
| Flexibility | Less flexible | More flexible |
| Applications | Mostly for small repairs | Ideal for crafts, jewelry, and more |
| Waterproof | Somewhat resistant | Resistant when cured |
| Toxicity | Can be irritating | Requires ventilation |
Read More about Elmer's Glue vs Titebond: Which Adhesive Reigns Supreme?
E6000 vs Krazy Glue: Comparison
Krazy and E6000 glue are both popular strong adhesive, but they have different properties and are suitable for different types of projects. Here's a comparison between these two best adhesives: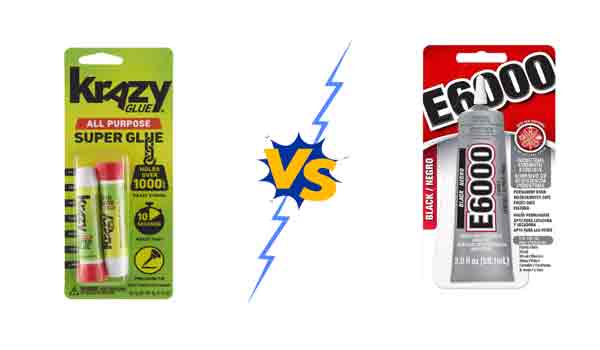 Composition And Ingredients
Its composition, primarily cyanoacrylate, ensures a strong bond on various uneven surfaces. However, it may struggle with materials like polyethylene and polypropylene due to their non-porous nature. E6000 excels even on tricky surfaces like polyethylene and polypropylene.
Bonding Strength
Krazy Glue is an adhesive known for its industrial-strength bonding capabilities Despite being stronger than super glue, the strength of the bond may vary depending on the surface.
E6000 is an excellent adhesive known for its strong and long-lasting bond. Its blend of industrial-strength adhesives, allows it to provide a strong and durable bond on a wide range of materials, making it versatile for various projects.
Drying Time
Krazy Glue boasts a quick drying time, making it ideal for swift fixes. In contrast, E6000 takes longer to dry but dries clear, allowing for precise adjustments during the curing process.
Flexibility And Versatility
Krazy Glue is renowned for its strong bond on various materials, offering a versatile glue solution for every day repairs. On the other hand, E6000 exhibits remarkable flexibility and versatility, akin to hot glue, making it a preferred choice for intricate craft projects.
Durability
Both Krazy Glue and E6000 offer impressive durability, ensuring lasting bonds. However, E6000's superior strength and resilience elevate it above standard superglue, particularly in applications demanding exceptional endurance.
Water Resistant Ability
Krazy Glue and E6000 are different types of glue with strong waterproof properties. While super glue like Krazy Glue offers quick bonding, E6000 excels in projects requiring a water-resistant adhesive bond, making it ideal for various crafting and repair tasks.
Also Read: Freestyle Libre Adhesive Patches
Advantages Of Using Krazy Glue
Krazy Glue offers rapid bonding as the glue dries quickly.
Its strong adhesive properties make it suitable for various materials.
Krazy Glue is versatile and bonds plastics, ceramics, glass, and more.
The precision applicator ensures controlled and accurate usage.
It works best for quick repairs and DIY projects.
The compact size makes it convenient for on-the-go fixes.
Advantages Of Using E6000
Fast bonding: Krazy Glue bonds quickly, often in seconds, saving time on projects.
Versatile: Suitable for various materials, including plastics, ceramics, and glass.
Precision applicator: Allows for pinpoint accuracy when applying adhesive.
Strong bond: Creates a durable and resilient bond that holds up well under stress.
Long-lasting: Resists moisture, temperature fluctuations, and vibrations.
Clear finish: Leaves no visible residue, ensuring a clean and discreet bond.
Convenient sizes: Available in various packaging options to suit different needs.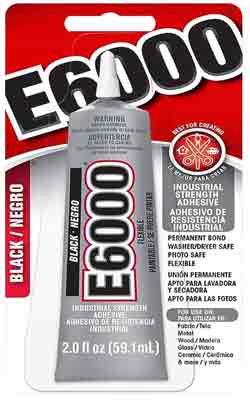 Read More About Elmer's Glue vs PVA: Which adhesive reigns supreme?
Application Of Krazy Glue
Krazy Glue is ideal for bonding ceramic and glass surfaces.
It excels in adhering metal and glass components securely.
Use it on vinyl to mend tears or fix seams effortlessly.
For non-porous materials, such as plastic and rubber, Krazy Glue ensures a durable bond.
This adhesive is a suitable alternative to contact cement in many applications.
Krazy Glue is reliable for various DIY projects involving materials like metal or glass.
Application Of E6000
E6000 is a versatile adhesive that can be used on various materials.
Its flexibility makes it ideal for bonding porous surfaces like fabric and wood.
It excels at adhering glass to metal, creating strong, durable bonds.
This glue works best for crafts, DIY projects, and repairs.
Whether it's metal, plastic, or fabric, use super glue like E6000 adhesive.
Handling And Storage Precautions For Both Adhesives
Apply the glue sparingly to avoid excess glue buildup.
Store adhesives in a cool, dry place to prevent deterioration.
E6000 is designed for strong bonding; use it for durable connections.
When reapplying, like sticking duct tape, ensure surfaces are clean and dry.
Avoid using old glue that may have lost its adhesive strength.
Use gloves and work in a well-ventilated area when handling adhesives.
Overlapping surfaces makes bonding easier because it increases contact area.
Excess glue may weaken the bond; wipe away any spills promptly.
When removing glued items, do so gently to prevent damage; they might pull apart even with a strong adhesive.
How to Apply Super Glue
Clean and dry surfaces to be bonded.
Ensure proper ventilation; work in a well-ventilated area.
Protect your hands with gloves.
Apply a small amount of super glue to one surface.
Press surfaces together firmly for a few seconds.
Hold in place until glue sets (usually within 30 seconds).
Wipe off any excess glue with a cloth or acetone.
Allow 24 hours for full cure.
How to Remove Glue If Adhere To Skin
To remove glue from skin, follow these steps:
Soap and Water: Start with gentle soap and warm water. Rub the glue-covered area gently to loosen it.
Peel It Off: Once the glue softens, try to peel it off with your fingers or a soft cloth. Be careful not to damage the skin.
Oil or Butter: Apply a small amount of cooking oil, olive oil, or butter to the glue. Let it sit for a few minutes to break down the adhesive.
Rubbing Alcohol: If the glue persists, soak a cotton ball in rubbing alcohol and dab it on the affected area. Gently rub to lift the glue.
Wash Again: Rinse with soap and water to remove any residue. Moisturize to soothe the skin.
Seek Medical Help: If the glue is stubborn or adhered to sensitive areas, consult a medical professional for safe removal. Avoid using harsh chemicals or excessive force, as it can damage the skin.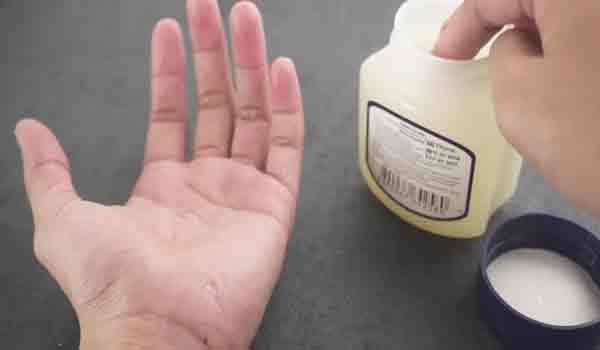 Read Also B7000 Glue Vs E6000: Which One Will Win The Ultimate Battle?
FAQs
What glue is comparable to E6000?
E6000 adhesive is similar to Goop, Loctite PL Premium, and 3M 5200, offering strong bonds on various materials like metal, wood, and fabric.
What does E6000 not work on?
E6000 may not adhere well to certain plastics, foam, or rubber materials, and it's not recommended for use on items constantly submerged in water.
Is Krazy Glue stronger than epoxy?
Krazy Glue (cyanoacrylate) provides quick, strong bonds on non-porous surfaces, but epoxy typically offers greater strength and versatility on a wider range of materials and applications.
Can E6000 be used on plastic?
Yes, E6000 can be used on some plastics, but its effectiveness may vary. It's essential to test on a small, inconspicuous area first to ensure proper adhesion.
What is gorilla glue?
Gorilla Glue is a brand of adhesive products known for their strong and versatile bonding capabilities. They offer a range of adhesives, including epoxy, super glue, and various specialized formulas, widely used in DIY, crafts, and repairs.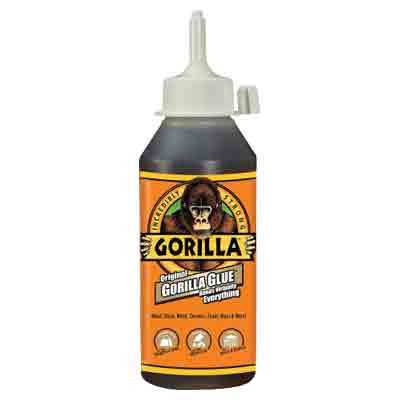 Does E6000 work better than super glue?
E6000 typically outperforms super glue in versatility, bonding various materials, including porous surfaces. Its flexibility and strength make it a superior choice for many applications.
How permanent is E6000?
E6000 is known for its long-lasting adhesion. It remains secure for years, even under challenging conditions like exposure to water, heat, and outdoor elements.
Will E6000 damage plastic?
E6000 is generally safe for most plastics, as it doesn't contain harsh solvents. However, it's wise to test on a small, inconspicuous area first to ensure compatibility.
GLUING the soul of the shoe back on with E6000
Conclusion
In the battle of Krazy Glue vs E6000, it's clear that each adhesive has its own strengths. Whether you need a quick fix or a heavy-duty bond, choosing the right glue depends on your project's unique demands. Ultimately, both E6000 and super glue offer reliable solutions for various crafting and repair needs.