Elmer's Glue Vs PVA: Difference Between The Two Glue
Elmer's Glue, commonly known as school glue, is a type of PVA (Polyvinyl Acetate) adhesive. The main difference between Elmer's…
Elmer's Glue, commonly known as school glue, is a type of PVA (Polyvinyl Acetate) adhesive. The main difference between Elmer's Glue vs PVA lies in formulation; Elmer's is a brand of PVA glue known for its versatility and ease of use, while generic PVA glue may vary in quality but can provide a stronger bond when specified for specific applications.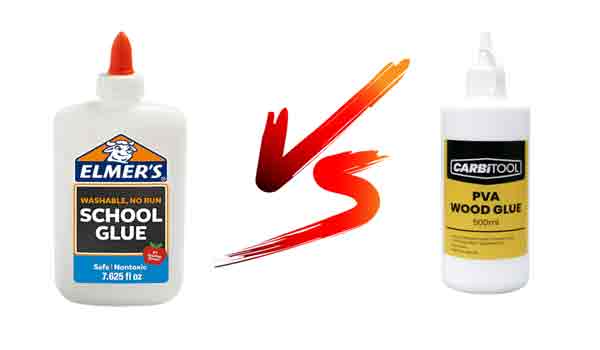 Elmer's School Glue
Elmer's School Glue is a popular white glue used primarily for bonding various materials, including paper, cardboard, and even pieces of wood. It's a trusted adhesive for arts, crafts, and school projects, known for its reliability and ease of use.
Read More About Battle of the Sealants: Green Glue Compound Vs Sealant
Features and Characteristics of Elmer's School Glue
Non-toxic, safe for children and school projects
White liquid adhesive
Washable and easy to clean
Dries clear for a neat finish
Available in various sizes (bottles, sticks, pens)
Acid-free, suitable for archival projects
Long shelf life
Versatile for various crafting and school tasks
Application Methods
Spreading with brushes or applicators
Squeezing from bottles
Rolling with glue pens
Sticking with glue sticks
Suitable for paper, cardboard, fabric, and more
Works well with various craft materials
Advantages of Elmer's School Glue
Ideal for school projects and crafts
Safe for children's use
Easy cleanup with water
Bonds effectively and dries transparent
Affordable and readily available
Acid-free for preservation projects
Versatile and compatible with multiple surfaces
Reliable adhesive for diverse applications
Odorless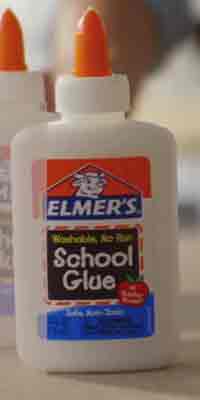 Disadvantage of Elmer's Glue-all
Tends to yellow over time, which can affect the appearance of projects.
May not provide a completely clear or transparent finish.
Dries relatively slowly compared to some other adhesives.
Can become less effective when exposed to moisture or high humidity.
Not suitable for use on some materials, such as certain plastics or metals.
Use of Elmer's Glue
Crafting: Elmer's Glue is a versatile adhesive for art and craft projects.
Schoolwork: It's commonly used by students for paper, cardboard, and poster projects.
Repairs: Ideal for fixing broken ceramics, glass, or plastic items.
Slime Making: A key ingredient in DIY slime recipes.
Collage: Used to create layered and textured effects in collage art.
Woodworking: Suitable for bonding wood pieces in non-structural applications.
DIY Decor: Perfect for adhering decorations to various surfaces.
Labeling: Used for affixing labels and sealing envelopes.
PVA Wood Glue
PVA wood glue, a type of glue (polyvinyl acetate), is commonly used as an adhesive to bond wood. It creates a strong and durable connection when joining wooden pieces together and other porous surfaces, making it a popular choice for woodworking projects.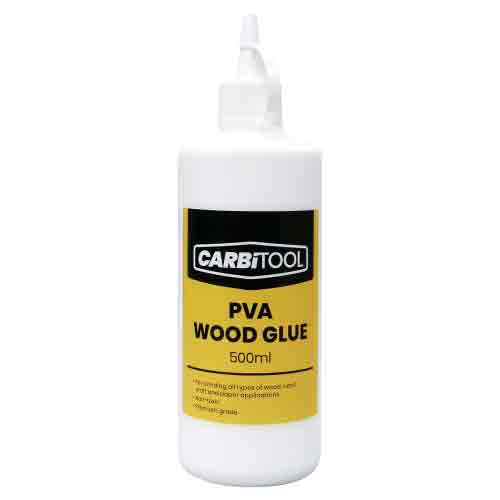 Read Also Krazy Glue vs Dermabond Super Glue: Battle of Adhesives
Features and Characteristics of PVA Wood Glue
Polyvinyl Acetate (PVA): PVA wood glue is based on a water-soluble polymer, making it non-toxic and easy to clean.
Versatility: PVA craft glue is suitable for various wood types, including softwoods and hardwoods.
Drying Time: Typically has a relatively short drying time, allowing for faster project completion.
Translucent Finish: Dries to a clear or translucent appearance, minimizing visible glue lines.
Application Methods
Brush or Roller: Apply with a brush or roller for even coverage on larger surfaces.
Spreaders: Use spreaders or putty knives for precise glue application in tight spaces.
Clamping: Requires clamping for a strong bond; clamps should be left in place until the glue is fully dried.
Cleanup: Easy cleanup with water while the glue is still wet.
Advantages of PVA Wood Glue
Non-toxic: Safe for both users and the environment due to its water-based formula.
Strong Bond: Creates a durable bond that withstands everyday stresses.
Quick Drying: Shortens project timelines with its relatively fast drying time.
Inexpensive: Cost-effective choice for woodworking projects.
Cleanability: Easy clean up with water, minimizing mess and waste.
Available in various forms, including liquid and glue sticks.
Colorless
Flexible when dry
Disadvantage of PVA
PVA glue doesn't provide the same level of clarity and transparency as other adhesives
Limited strength: PVA glue lacks the bonding strength of other adhesives for heavy-duty applications.
Water-solubility: PVA glue dissolves in water, making it unsuitable for projects exposed to moisture.
Drying time: PVA glue often requires longer drying periods, delaying project completion.
Not heat-resistant: It can soften or lose adhesion at high temperatures.
Ineffective on non-porous surfaces: PVA glue struggles to bond on materials like glass or metal.
Limited flexibility: It may not suit flexible materials or applications that require a highly resilient bond.
Use of PVA
PVA (Polyvinyl Acetate Glue) glue is a versatile adhesive commonly used in various applications.
Ideal for bonding paper, cardboard, and other porous materials.
Dries clearly, making it suitable for craft projects and artwork.
Water-soluble, allowing for easy cleanup with water.
Used in woodworking for bonding wooden components.
You can use PVA glue in DIY projects and construction.
PVA glue used in school supplies for children's crafts.
This glue is also mixed with water for a more flexible adhesive.
Used in bookbinding to adhere pages together.
PVA can be used sealer
Elmer's Glue vs PVA Comparison
Ingredients
PVA glue and elmer's share a common primary ingredient – PVA polymer. However, Elmer's Glue is made of additional additives such as thickeners and preservatives. PVA is often purer, making it a preferred choice for crafts and woodworking where ingredient purity matters.
PVA and Elmer's: Strengths
Elmer's Glue is renowned for its reliable bond on paper, cardboard, and fabric, making it ideal for school projects and crafts. PVA, on the other hand, offers superior strength and is commonly used in woodworking, construction, and carpentry for its durable, long-lasting hold.
Water Resistance
Elmer's Glue is water-soluble, making it less water-resistant. PVA, depending on the formulation, can provide better water resistance, especially when it's labeled as waterproof or weatherproof, which is useful for outdoor applications.
Drying Time
Elmer's Glue typically dries faster due to its lower viscosity, usually within 30 minutes to an hour. PVA may take longer to dry, varying from a few hours to overnight, depending on factors like humidity and the thickness of the adhesive layer.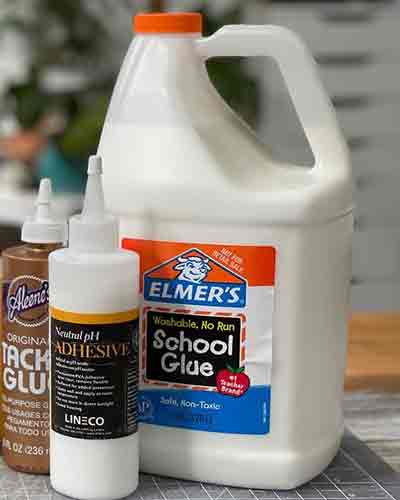 Factor Consider When Choosing Glue
Choosing the right glue involves considering several key factors to ensure a successful bond:
Material Compatibility: Determine the materials you need to bond. Ensure the glue is compatible with both surfaces, whether they are paper, wood, plastic, metal, or others.
Adhesive Strength: Assess the required strength of the bond, whether it's a temporary or permanent connection.
Drying Time: Consider the time available for the glue to dry. Some glues set quickly, while others require longer curing times.
Temperature and Environment: Account for the temperature and humidity conditions where the bond will be formed. Some glues are sensitive to temperature variations.
Application Method: Choose a glue that suits your application method, whether it's a brush, nozzle, or spray.
Toxicity: Be aware of the glue's toxicity and ensure it's safe for your intended use.
Flexibility and Elasticity: Evaluate if the bond needs to remain flexible or require rigidity. Some glues offer flexibility, while others are more rigid.
Water Resistance: Determine if the bond needs to be water-resistant or waterproof.
Curing Time: Consider the time it takes for the glue to reach its maximum strength, as it can vary between products.
Tips For Using Super Glue
Preparation: Clean and dry surfaces to ensure a strong bond.
Ventilation: Use super glue in a well-ventilated area to avoid inhaling fumes.
Minimal Amount: Apply a small amount of glue; a little goes a long way.
Hold Firm: Press glued surfaces together firmly for several seconds.
Avoid Skin Contact: Wear gloves and be cautious to prevent glue from touching your skin.
Excess Glue: Remove any excess glue with a scraper or sandpaper.
Drying Time: Allow glue to dry completely; it may take a few minutes.
Storage: Keep the cap tightly sealed to prevent drying in the bottle.
Cleanup: Acetone or nail polish remover can help dissolve super glue if needed.
FAQs
Can you use Elmer's glue instead of PVA glue?
Yes, Elmer's glue can substitute for PVA glue in many craft and DIY projects. Both are water-based adhesives, offering similar bonding strength for most non-specialized applications.
What Is Elmer's Glue Made Of?
Elmer's glue typically consists of polyvinyl acetate (PVA) as its primary ingredient, mixed with water and other additives for specific formulations. PVA provides adhesive properties.
What brand of wood glue is the strongest?
Titebond is renowned for its strength among wood glues. Titebond III Ultimate Wood Glue, in particular, is a popular choice, offering exceptional bonding strength and durability for woodworking projects.
Is carpenter's glue better than gorilla glue?
Carpenter's glue is generally preferable for woodworking due to its strong bond, ease of use, and cleanup. Gorilla Glue, while strong, expands as it cures and can be messier, making it less suitable for fine woodworking tasks.
ELMER'S GLUE VS PVA GLUE / WHICH IS MORE WORTH IT?
Conclusion
In conclusion, the choice between Elmer's Glue vs PVA ultimately depends on the specific project and its requirements, with both options offering distinct advantages for various applications.