E6000 Vs Gorilla Glue: Which One is the Best?
The main difference between E6000 vs Gorilla Glue is their composition and recommended uses. E6000 is a flexible adhesive suitable…
The main difference between E6000 vs Gorilla Glue is their composition and recommended uses. E6000 is a flexible adhesive suitable for a variety of materials, while Gorilla Glue is a polyurethane adhesive known for its strength and versatility.
E6000 Glue
E6000 glue is a versatile type of glue known for its strong bond and flexibility. This multipurpose glue works wonders on various materials, from glass to fabric, making it a reliable choice for a wide range of crafting and repair projects.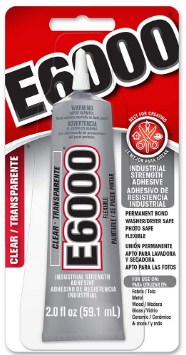 Composition and Chemical Properties
E6000 is a versatile craft adhesive composed mainly of thermoplastic polymers, acetone, acetic acid, ammonium hydroxide, and toluene. It cures through solvent evaporation, forming a strong, flexible bond. It's known for its high viscosity and durability.
What is E6000 Glue Used for?
E6000 is used for a wide range of applications, including bonding metals, plastics, glass, ceramics, fabric, and more. It's ideal for jewelry making, wax paper, DIY projects, and repairing household items due to its versatility.
Advantages of Using E6000
Strength of E6000: E6000 is a strong glue, with a durable bond on various materials.
Flexibility: This hot glue remains flexible after curing, making it suitable for projects requiring movement.
Waterproof: Resists water and moisture, ensuring longevity.
Versatile: This craft glue bonds almost anything, making it a go-to adhesive for diverse projects.
Heat Resistance: Can withstand extreme temperatures (-40°C and 82°C).
Quick Setting: Bonds quickly, reducing project time.
Safe: Doesn't contain harmful chemicals.
It's easy to use
Best glue for nonporous surfaces
Disadvantages of Using E6000
Odor: Contains solvents, emitting a strong odor during application.
Drying Time: Requires curing time, limiting instant use.
Messy Application: The high viscosity can lead to a messy application.
Not UV Resistant: May degrade when exposed to direct sunlight.
Limited Heat Resistance: Unsuitable for extremely high-temperature applications.
Read More about Battle of the Sealants: Green Glue Compound Vs Sealant
Gorilla Glue
Gorilla is a great glue and is widely regarded as the strongest adhesive on the market. Its great adhesive power makes it perfect for various tasks, from fixing broken ceramics to bonding wood, cementing its reputation as the go-to glue for tough jobs.

Composition and Chemical Properties
Gorilla Glue, a polyurethane adhesive, consists of isocyanate and polyol resin components. When exposed to moisture, it undergoes a chemical reaction, forming a strong bond. Its foaming property aids in filling gaps during curing.
What is Gorilla Glue Used for?
Gorilla Glue is versatile and bonds various materials, including wood to glass, metal, ceramics, and plastics. It's ideal for woodworking, DIY projects, and repairs, offering a durable and waterproof bond.
Advantages of Using Gorilla Glue
Versatility: Bonds diverse materials.
Strength: Forms strong, durable bonds.
Waterproof: Resistant to moisture and liquids.
Expansion: Expands while curing to fill gaps.
Durability: Withstands harsh conditions.
Gorilla glue comes with an applicator to apply the glue
Disadvantages of Gorilla Glue
Messy Application: This can be messy if not used carefully.
Foaming: Expanding property may not suit all applications.
Long Curing Time: Requires hours to fully cure.
Toxic Fumes: Releases harmful fumes during curing.
Difficulty in Removal: Once cured, it's challenging to undo the bond
Gorilla glue tends to create bubbles around the seam.
Comparison of E6000 and Gorilla glue
Gorilla vs E6000 Craft: Bonding Strength
E6000 and Gorilla super glue gel both offer strong bonding capabilities. E6000 excels with its flexible bond, making it ideal for materials like fabric, while Gorilla Glue delivers a rigid bond suited for hard surfaces like wood and metal.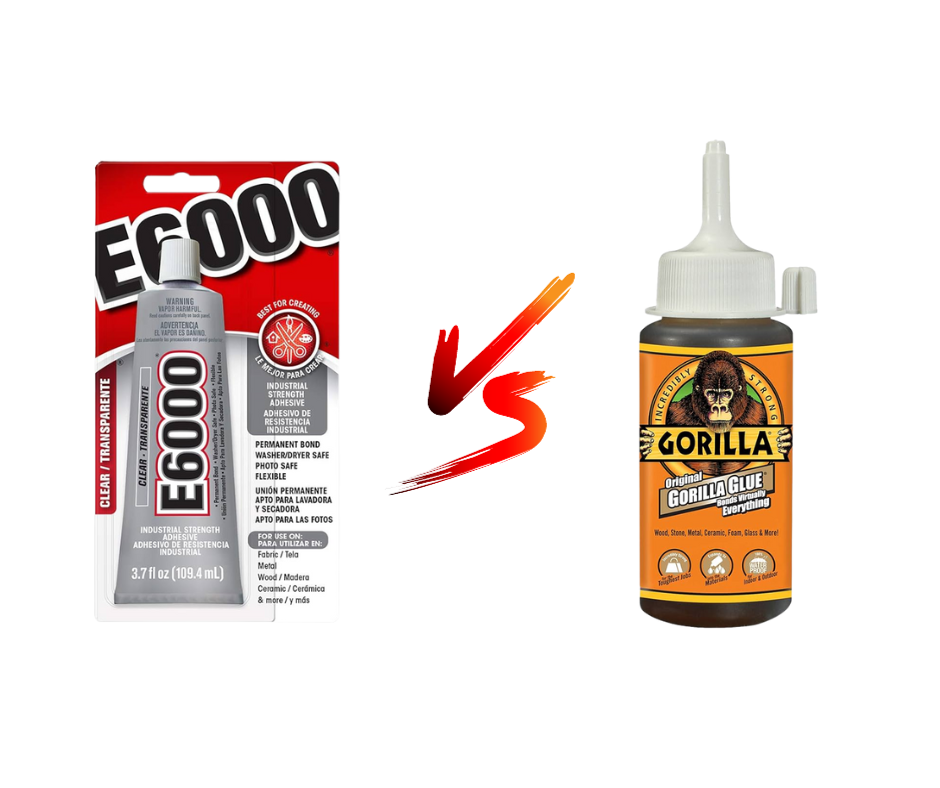 Durability
Both adhesives are durable, with E6000 boasting resistance to UV rays and extreme temperatures, while Gorilla Glue excels in outdoor applications due to its waterproof and weatherproof properties. Gorilla glue lasts for 18-24 months while E600 last for two years.
Drying Time
It takes 24 and 72 hours for E600 glue to dry, while Gorilla Glue can take up to 2 hours time for the glue to dry and 24 hours for a full cure. That means gorilla glue dries quickly than e6000 industrial glue.
Toxicity and Safety
Both gorilla glue and e6000 contain toxic chemicals and should be used in well-ventilated areas with caution. E6000 is considered slightly less toxic, but safety precautions are essential for both.
Water Resistance Capability
Both types of glue are waterproof. Gorilla Glue is known for its exceptional water resistance, making it suitable for wet environments. E6000 is also water-resistant but may not perform as well in constant immersion.
Temperature Endurance
E6000 offers a broad temperature range, from -40°F to 150°F (-40°C and 82°C), while Gorilla Glue can withstand temperatures from -20°F to 220°F (-29°C to 104°C). Gorilla Glue is better for temperature variations.
Read Also Krazy Glue vs Dermabond Super Glue: Battle of Adhesives
E6000 Glue Vs Gorilla Glue For Plastic
E6000 excels with its versatility, as it can also work with plastic, making it an ideal choice for mixed-material projects. In contrast, Gorilla Glue provides a strong permanent bond for wood but doesn't work with plastic.
So, choose E6000 over Gorilla Glue when your project involves a plastic surface for a reliable and lasting connection.
E6000 Vs Gorilla Glue For Wood
When it comes to bonding wood, two types of glue stand out: E6000 glue and Gorilla Glue. Both are formidable options, but for wood projects, wood glue is the best option.
Gorilla wood glue offers superior adhesion and is specifically designed for bonding wood surfaces, ensuring a strong and reliable bond that can withstand the test of time.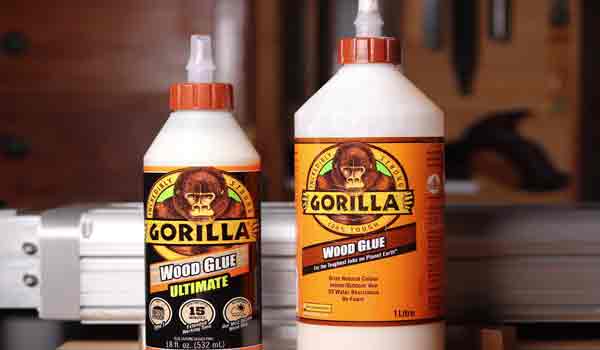 E6000 Vs Gorilla Ggue For Metal
When it comes to bonding metal handle, Gorilla Glue works best. E6000 is a reliable adhesive, but for superior metal adhesion, Gorilla Glue is the go-to choice. So, if you want a strong and durable bond for your glass to metal projects, Gorilla Glue is the ideal adhesive to reach for.
E6000 Vs Gorilla Glue For Leather
E6000 glue works great for leather projects due to its flexibility and strong bond. Its rubber-based formula ensures durability without becoming brittle, making it ideal for leather repairs or crafting.
In contrast, Gorilla Glue, while excellent for various materials, may not provide the same level of flexibility needed for leather, potentially leading to stiffness or cracking in the long run.
Which One is Best E6000 or Gorilla Glue?
The choice between E6000 and Gorilla Glue depends on your specific project and materials. If you're working with porous surfaces like wood, Gorilla Glue is the best choice due to its exceptional bonding strength and water-resistant properties.
It expands as it cures, filling gaps effectively. On the other hand, E6000 glue can be used for various materials, including plastics and metals. It remains flexible after drying, making it ideal for applications where movement or flexibility is required.
Ultimately, the best option varies based on your project's requirements, so consider the materials and conditions before making your decision.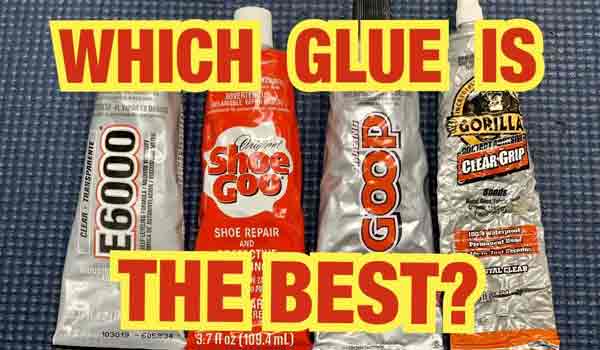 How Do You Remove Gorilla Glue?
To remove Gorilla Glue, follow these steps:
Protective Gear: Put on gloves and safety goggles to safeguard your skin and eyes.
Ventilation: Work in a well-ventilated area to avoid inhaling fumes.
Expose the Residue: Carefully scrape off any excess glue using a plastic scraper or your fingernail.
Heat: Use a hairdryer on low heat to warm the glue. This helps soften it for easier removal.
Rubbing Alcohol: Dampen a cloth with rubbing alcohol and gently rub the glue. Continue until the glue softens and begins to dissolve.
Scrubbing: If needed, use a soft-bristle brush to scrub the residue away.
Cleanse: Finally, wash the area with soap and water to remove the exposed residue, ensuring a clean finish.
Factors Influencing Choice
Project Requirements
The complexity, size, and purpose of a project greatly influence adhesive choice, with structural, decorative, or functional needs dictating adhesive type, strength, and durability.
DIY vs. Professional Projects
DIY projects often prioritize ease of use, while professionals seek specialized adhesives for precision, reliability, and meeting industry standards, ensuring long-lasting bonds.
Indoor vs. Outdoor Applications
Indoor projects benefit from general-purpose adhesives, whereas outdoor applications demand weather-resistant, UV-stable, and waterproof adhesives to withstand environmental challenges.
Materials to be Bonded
Choosing the right adhesive hinges on the materials involved, with compatibility, surface preparation, and adhesive properties tailored to ensure strong and lasting bonds.
Tips For Applying Glue
When applying glue, follow these steps for a strong and secure bond:
Gather your materials: Ensure you have the right amount of glue for your project. Check the label on tubes of glue for recommended quantities.
Prepare surfaces: Clean and dry the surfaces you plan to glue. Smooth, dust-free surfaces ensure a better bond.
Apply glue to both surfaces: For optimal adhesion, apply a thin, even layer of glue to both the object you're bonding and the surface it will adhere to.
Press together: Align the glued surfaces carefully, ensuring proper positioning, and firmly press them together.
Clamp or secure: If needed, use clamps or other securing methods to hold the glued parts in place while the glue dries.
FAQs
Does Gorilla Glue smell?
Gorilla Glue typically has a strong, pungent odor that can be unpleasant. It's important to use it in a well-ventilated area or wear a mask to avoid inhaling the fumes.
What does Gorilla Glue not stick to?
Gorilla Glue doesn't adhere well to surfaces coated with oils, wax, or certain plastics like polyethylene and polypropylene. Before using the glue it's essential to dry clear the surfaces properly for optimal bonding.
Is E6000 as strong as super glue?
E6000 and superglue (cyanoacrylate) have different strengths and properties. Super glue is often stronger for bonding small, non-porous items quickly, while E6000 offers flexibility and is better for larger, porous materials.
What glue is comparable to E6000?
Adhesives like Shoe Goo, Goop, and Amazing GOOP are comparable to E6000 in terms of flexibility and versatility. They're commonly used for various craft and repair applications.
What is the strongest glue in the world?
Cyanoacrylate-based superglues, epoxy adhesives like JB Weld, and polyurethane adhesives like Gorilla Glue are considered the strongest glue, each excelling in different bonding scenarios.
Is Gorilla stronger than epoxy glue?
Gorilla Glue and epoxy are strong adhesives but serve different purposes. Epoxy is generally stronger for rigid materials and heavy-duty applications, while Gorilla Glue offers more flexibility and can excel in certain situations.
Conclusion
In the showdown of E6000 vs Gorilla Glue, both adhesives have proven their worth, but the choice ultimately depends on your specific needs. E6000 offers versatility, while Gorilla Glue excels in strength. Select the one that best suits your project for a reliable bond. Try the gorilla glue if you want get strongest bond.