Lucas X Tra Heavy Duty vs Red N Tacky Grease
Lucas X Tra Heavy Duty vs Red N Tacky are both premium grease products. The main difference lies in their…
Lucas X Tra Heavy Duty vs Red N Tacky are both premium grease products. The main difference lies in their intended applications. X Tra Heavy Duty is designed for heavy-duty and extreme-pressure situations, while Red N Tacky is versatile and suitable for a wide range of general lubrication needs.
Lucas X Tra Heavy Duty Grease
Lucas Xtra Heavy Duty Grease is a high-performance synthetic lubricant. Engineered for extreme conditions, Lucas Xtra excels in providing long-lasting protection and superior lubrication, making it the ideal choice for heavy-duty machinery and equipment. You don't have to worry when you get lucas grease X Tra.

Lucas Oil: Ingredients and Composition
The exact composition may vary based on product variations and formulations. Here is the ingredient according to the data sheet.
Lucas X Tra Heavy Duty Grease is primarily composed of lithium complex thickener and polyurea
It contains a high-quality base oil, which is typically a mineral oil.
May include additives such as anti-wear agents, rust inhibitors, and antioxidants.
Read More About Shoe Goo Vs Loctite Shoe Glue: Which is the Ultimate Fix?
Use of Lucas X Tra Heavy Duty
Designed for heavy-duty applications in industrial and automotive settings.
Ideal for lubricating bearings, chassis parts, and equipment subjected to extreme pressures and temperatures.
Suitable for use in off-road vehicles, trucks, and heavy machinery.
Provides long-lasting lubrication and protection against wear and corrosion.
Made for high-speed ball bearings and electric motor
Advantages of Lucas X Tra Heavy Duty
Exceptional load-carrying capacity, reducing friction and wear.
Resistant to water washout, ensuring reliable performance in wet conditions.
Wide temperature range suitability, from extreme cold to high heat.
Extends equipment life and reduces maintenance costs.
Excellent for high-stress, heavy-duty applications.
Due to its Thickeners' compatibility, it can withstand mechanical stability and heavy loads.
Disadvantages of Lucas Xtra Heavy-Duty
May not be compatible with all types of seals and elastomers.
Lithium complex greases can be more expensive than some other grease types.
Over-application can lead to excess buildup and potential contamination.
Requires proper handling and disposal to prevent environmental impact.
Lucas Red N Tacky Compatibility
Lucas Red N Tacky is a versatile and high-quality grease suitable for various applications, including automotive, industrial, and marine use. It exhibits excellent compatibility with a wide range of materials, including metals, rubber, and plastics. This compatibility ensures effective lubrication and protection, making it a popular choice among professionals and DIY enthusiasts for their equipment and machinery maintenance needs.
Red N Tacky Grease
Red N Tacky Grease is a popular type of lithium-based grease known for its exceptional lubrication properties. Unlike green grease, its red hue signifies high-performance durability in various applications.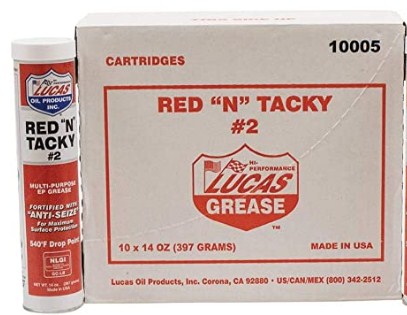 Ingredients and Composition of Red N Tacky Grease
Red N Tacky Grease is typically composed of a petroleum-based lubricant.
It contains additives such as rust and oxidation inhibitors.
Thickening agents like lithium or calcium soap are used to give it its grease-like consistency.
Red N Tacky may also include polymers to enhance its adhesive properties.
Use of Red N Tacky Grease
Primarily employed for lubricating moving parts in machinery and equipment.
You can use red for automotive applications like chassis, wheel bearings and other machinery.
Used in industrial settings to reduce friction and protect against corrosion.
Ideal for high-pressure and high-temperature environments.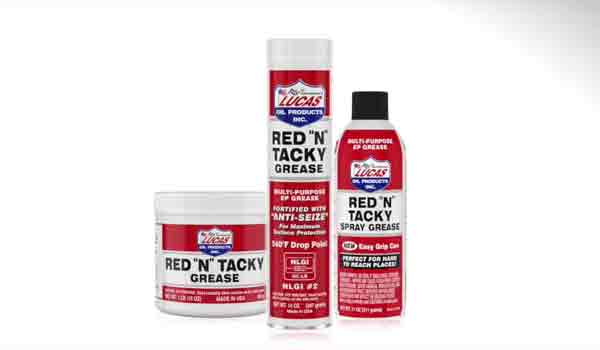 Advantages of Red N Tacky Grease
Excellent water resistance, making it suitable for wet conditions.
Offers long-lasting durable lubrication than regular grease and reduces wear on components.
Resists oxidation and rust, extending equipment lifespan.
Stays in place due to its tacky nature, reducing the need for frequent reapplication.
Disadvantages of Red N Tacky Grease
Incompatibility with certain seals and gaskets due to its petroleum base.
Can become stiff in very cold temperatures, affecting performance.
Limited use in extreme high-temperature applications.
Requires careful handling and disposal to prevent environmental harm.
Lucas X Tra Heavy Duty Grease Vs Red N Tacky: Comparison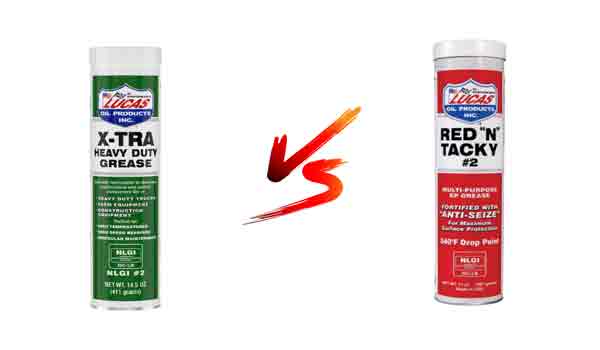 Life-Time Expectancy
Lucas X Tra Heavy Duty boasts impressive durability and lasts longer, designed to outlast conventional lubricants. Its high-quality additives ensure extended equipment life, reducing maintenance costs and downtime. Red N Tacky, while reliable, may not match Lucas's exceptional life expectancy.
Temperature Endurance
Lucas X Tra thrives under extreme temperature conditions, remaining effective in both high-heat and low-temperature environments. Lucas Red N Tacky exhibits decent performance, but Lucas excels in extreme temperature endurance, enhancing equipment reliability.
Water Resistance
Lucas X Tra's advanced formula offers superior water resistance, preventing rust and corrosion in wet environments. Red N Tacky, while reasonably water-resistant, may not provide the same level of protection in prolonged exposure to moisture.
Adhesion And Shear Stability
Both products excel in adhesion and shear stability, minimizing wear and tear on moving parts. Lucas X Tra's unique blend ensures outstanding performance in high-stress situations, surpassing Red N Tacky's standard capabilities.
Versatility
Lucas X Tra Heavy Duty stands out for its versatility, suitable for various applications, including automotive, industrial, and marine. Red N Tacky, while reliable, may have limitations in certain specialized applications.
Lubrication Efficiency
Lucas X Tra's efficient lubrication minimizes friction, reducing energy consumption and heat generation. Red N Tacky provides effective lubrication but may not match Lucas's efficiency in optimizing equipment performance.
Viscosity
Both products offer appropriate viscosities for general applications. Lucas X Tra's viscosity remains stable under extreme conditions, providing consistent protection. Red N Tacky, though suitable for many applications, may experience viscosity changes in extreme temperatures.
Cost
While Lucas X Tra Heavy Duty may have a slightly higher upfront cost, its extended life expectancy and superior performance can lead to cost savings in the long run. Red N Tacky offers good value for money but may require more frequent replacement. Consider your specific needs and budget when making a choice.
How To Safely Store Lucas Red And Tacky Grease
To safely store Lucas Red and Tacky Grease for extended periods of time while maintaining its effectiveness on sliding surfaces, follow these steps:
Clean Containers: Ensure your storage containers are clean and free from any contaminants, residue, or old grease.
Sealable Containers: Use airtight, sealable containers such like plastic or metal containers with tight-fitting lids to prevent moisture and debris from entering.
Cool, Dry Location: Store the containers in a cool, dry place, away from direct sunlight or extreme temperature fluctuations, as heat can cause separation or degradation.
Labeling: Clearly label the containers with the grease type and purchase date to track their shelf life.
Avoid Contaminants: Keep the grease away from dirt, dust, and other contaminants by sealing containers securely when not in use.
By following these steps, you can ensure that Lucas Red and Tacky Grease remain effective on sliding surfaces for an extended period.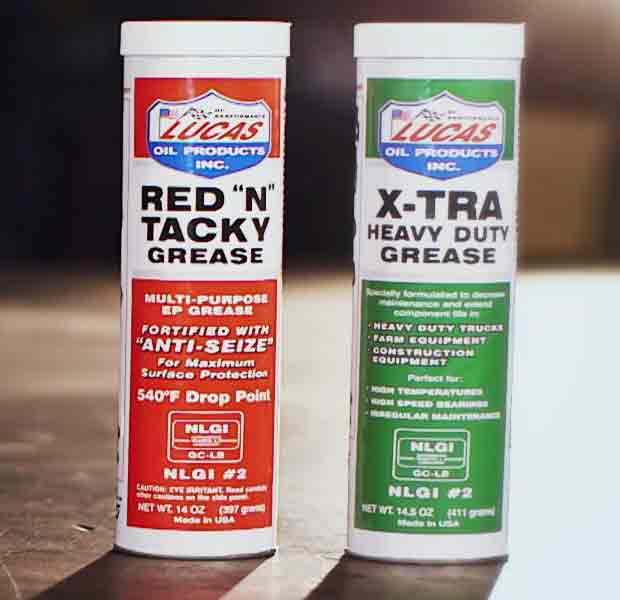 Read Also Battle of the Adhesives: Krazy Glue vs Nail Glue
FAQs
What is the difference between Red and Tacky and Red and Tacky #2?
Red and Tacky and Red and Tacky #2 are both types of grease, but they differ in their spec. Red and Tacky #2 may have a different viscosity, temperature range, or additives compared to the original Red and Tacky grease.
What color is Lucas X-Tra heavy duty grease?
Lucas X-Tra Heavy Duty Grease is typically green in color. Its color may vary slightly depending on the specific formulation.
What type of grease is Lucas Xtra heavy duty?
Lucas Xtra Heavy Duty Grease is a lithium complex grease designed for extreme pressure and high-temperature applications. It offers excellent mechanical stability, water resistance, and rust protection, making it suitable for heavy-duty equipment and machinery.
Is Red and Tacky a moly grease?
Yes, Red and Tacky Grease is a type of moly (molybdenum disulfide) grease. It contains solid lubricating particles, providing enhanced protection against friction and wear. It's ideal for applications subjected to high loads and temperatures.
Is red N Tacky good for ball joints?
Red N Tacky Grease is a versatile option for ball joints, offering good lubrication and protection. However, for specific ball joint applications, it's essential to consult your vehicle manufacturer's recommendations for the most suitable grease.
What color is high temp grease?
High-temperature grease typically appears red. This color is often indicative of its ability to withstand extreme heat conditions, making it suitable for applications where conventional greases may fail due to high temperatures.
Conclusion
In conclusion, when comparing Lucas X Tra Heavy Duty vs Red N Tacky lubricants, it's evident that both products offer exceptional performance. Choosing between them ultimately depends on specific application requirements and personal preferences.