Elmer's Glue vs Titebond Wood Glue: Know the Difference
Elmer's Glue is a type of carpenter glue suitable for general crafts and mild bonding, while Titebond is a wood…
Elmer's Glue is a type of carpenter glue suitable for general crafts and mild bonding, while Titebond is a wood glue, often used for woodworking to bond pieces of wood together, offering stronger and more durable bonds due to its specialized formulation. However, titebond and elmers both are the best wood glues on the market.
Elmers Glue
Elmer's Glue is a popular wood glue option used for various crafting and DIY projects. This versatile yellow wood glue is designed to bond different materials, including a variety of wood, making it an essential tool for woodworking and creative endeavors.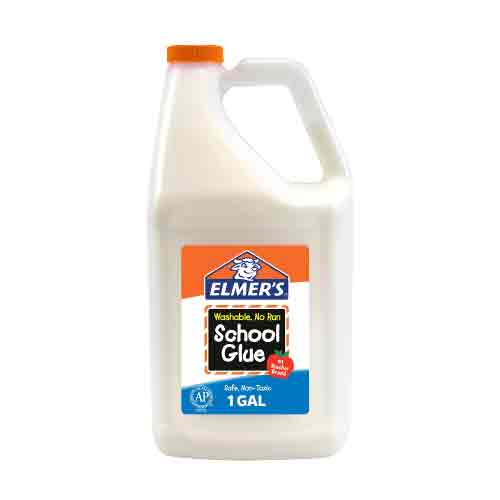 Read More About Loctite Blue Vs Red: Which One Is Stronger?
Features and Characteristics
Elmer's Glue is a well-known brand of white adhesive glue.
It's a versatile, water-based adhesive suitable for various materials.
Known for its non-toxic and washable properties.
Available in various formulations, including school glue and wood glue.
Bonds effectively and dries clear for discreet adhesion.
Application Methods
Apply Elmer's Glue using a brush, roller, or directly from the bottle.
Ideal for paper, cardboard, fabric, and wood.
For carpentry, use Elmer's Carpenter's Glue for strong wood-to-wood bonds.
Can be thinned with water for a smoother application.
Allow proper drying time for a secure bond.
Advantages
Safe for children and adults due to its non-toxic formula.
Easy cleanup with water when wet.
Suitable for both craft projects and woodworking.
Bonds wood pieces together securely, similar to other types of wood glue.
Cost-effective and widely available in most stores.
Use of Elmer's Glue
Perfect for school projects, arts and crafts.
Repairs paper tears and fabric seams.
As a wood glue, it joins furniture parts, frames, and wooden crafts.
Preferred for DIY home improvements.
Adheres to posters, photos, and labels without residue.
Titebond Glue
Titebond is a renowned brand for wood adhesives. Known for its superior strength and bonding capabilities. Offers various formulations for different wood applications.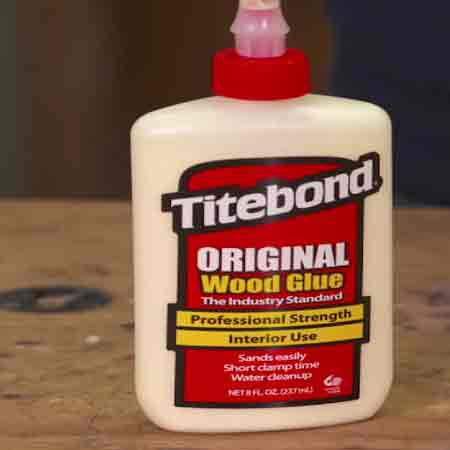 Read Also Battle of the Super Glues: Krazy Glue vs Loctite
Features and Characteristics
High-quality wood glue is renowned for its reliability.
Water-based adhesive, making it non-toxic and easy to clean.
Excellent bond strength for woodworking projects.
Resistant to heat, solvents, and mildew.
Long open assembly time for precise positioning.
Dries clear for an inconspicuous finish.
Available in various formulations for specific needs.
Application Methods for Titebond
Apply using a brush, roller, or spreader.
Suitable for edge gluing, laminating, and general bonding.
Requires clamping for optimal results.
Bonds wood, particleboard, MDF, and more.
Clean excess glue with a damp cloth before drying.
Store in a cool, dry place to prevent spoilage.
Advantages of Titebond
Strong and durable bonds for woodworking.
Safe for indoor use due to its non-toxic, water-based formula.
Versatile, with specialized formulations like Titebond III for exterior applications.
Minimal odor and easy cleanup with water.
Resistant to common woodwork stresses like heat and humidity.
Suitable for hobbyists, DIYers, and professional woodworkers.
Doesn't discolor the wood surface
Use of Titebond
This glue is ideal for woodworking projects such as furniture, outdoor applications, cabinetry, and joinery.
You can use titebond for laminating veneers and hardwoods.
Repairing wooden objects and antiques.
Bonding trim, moldings, cutting board, and decorative elements.
Crafting and hobbyist applications.
Read More about https://glueanswer.com/elmers-glue-vs-mod-podge
Elmer's Glue vs Titebond Wood Glue Comparison
Titebond vs Elmers: Ingredients
Elmer's Glue is a PVA-based yellow glue, primarily composed of polyvinyl acetate, water, and additives. In contrast, Titebond glue offers a range of wood glues, including their popular Original Wood Glue, which also relies on PVA as its primary component. Both brands incorporate proprietary additives for improved bonding performance.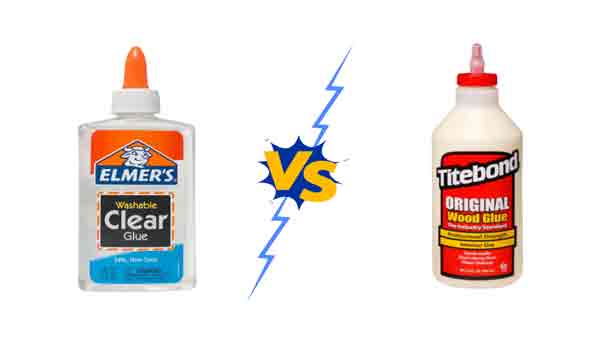 Elmer's Carpenters Wood Glue Vs Elmer's Carpenter's Wood Glue: Strengths
Titebond stands out for its exceptional bonding strength, often claimed to be stronger than wood itself, making it ideal for heavy-duty woodworking projects. Elmer's Glue, while strong, may not match the same level of strength as Titebond, especially for demanding applications involving heavy pieces of wood.
Water Resistance
Titebond is known for its waterproof wood glues, capable of forming a resilient bond even in damp conditions. Elmer's Glue, on the other hand, is not inherently waterproof, making it less suitable for projects requiring waterproof or water-resistant properties.
Heat Resistance
Titebond's wood glues exhibit good heat resistance, ensuring stability in elevated temperatures during woodworking processes. Elmer's Glue, while adequate for standard applications, may not perform as reliably under high heat, so it's crucial to consider the application temperature.
Drying Time
Elmer's white glue tends to have a shorter drying time, making it a quicker option for projects where speed is a priority. Titebond wood glues, while effective, may require a bit more time to cure fully. However, drying times can vary depending on factors like temperature and humidity.
Cost
Elmer's Glue generally comes with a lower price tag compared to Titebond wood glues, making it a more budget-friendly option. Titebond's has a bit of a higher price tag.
FAQs
Is Titebond Better than Elmers wood glue?
Titebond is typically stronger than Elmer's Glue for woodworking due to its superior bonding strength, moisture resistance, and longer drying time, making it ideal for structural applications.
Why is Elmer's glue so strong?
Elmer's glue achieves its strength through polyvinyl acetate (PVA) polymer chains that interlock when drying. This interlocking creates a sturdy bond between materials, making it strong for various crafts and household uses.
Is Elmer's wood glue max suitable for woodworking projects?
Elmer's Glue can be used for some woodworking projects, but it's not the best choice for heavy-duty or water-exposed applications. Titebond is generally preferred for woodworking.
Is Titebond similar to gorilla glue?
Titebond II or III, and Gorilla Wood Glue are very similar.
Does Titebond require clamping during drying?
In some cases, Titebond may benefit from clamping to ensure a strong bond. It's best to follow the manufacturer's instructions for specific projects.
Is either adhesive eco-friendly?
Titebond offers some eco-friendly options, such as Titebond III, which is water-resistant and non-toxic. Elmer's Glue also offers non-toxic variants. Always check product labels for environmental information.
Are there any safety considerations when using these adhesives?
Both Elmer's Glue and Titebond have safety information on their labels. It's important to follow safety guidelines, including proper ventilation and avoiding skin contact.
What are the types of Titebond?
Titebond offers various types of adhesive products, including Titebond Original, Titebond II Premium wood glue, Titebond III Ultimate Wood Glue, Titebond Extend, and specialty formulations like Titebond Melamine, Titebond Quick & Thick, and more, each designed for specific applications in woodworking and construction.
Which Wood Glue is Best? Titebond/Gorilla/Elmers
Conclusion
To sum it up, elmer's glue and titebond each have their own unique advantages when it comes to different applications. Elmer's glue is ideal for kid-friendly projects, while titebond is better suited for woodworking and construction projects. Both of these products have been popular for many years, and have a loyal following among their respective users.
When choosing between these two glues, it's important to consider the specific needs of your project and to select the product that is best suited for your intended use. Regardless of which glue you choose, both elmer's glue and titebond are high-quality products that will provide reliable results when used properly.
By taking the time to research and compare these two products, you'll be able to select the right glue for your needs and enjoy the results of your project for years to come.