Elmer'S Glue Vs Wood Glue: Which Is Stronger?
The main difference between Elmer's glue vs wood glue is their water content. Elmer's typically has a higher water content…
The main difference between Elmer's glue vs wood glue is their water content. Elmer's typically has a higher water content than Woodglue, making it better suited for bonding wood surfaces due to its stronger and more durable hold. Wood glue is stronger than white glue.
In this article, we will explore the unique properties of both types of glue, their suitability for different projects, and some tips for choosing the right glue for your needs. We will also discuss some common misconceptions about glue and offer advice for proper application and storage.
Elmer's Glue Vs. Wood Glue: Is wood glue stronger than Elmer's glue?
Here's a table outlining the main differences between Elmer's Glue and Wood Glue:
| | | |
| --- | --- | --- |
| Characteristic | Elmer's Glue | Wood Glue |
| Type | PVA (Polyvinyl Acetate) | PVA (Polyvinyl Acetate) or Aliphatic Resin (Carpenter's Glue) |
| Intended Use | General-purpose adhesive | Specifically designed for woodworking projects |
| Bond Strength | Moderate | Strong |
| Drying Time | Faster (minutes to hours) | Slower (hours to overnight) |
| Color | White (dries clear) | Usually yellowish or brown |
| Water Resistance | Limited | Variable, some are water-resistant |
| Flexibility | Somewhat flexible when dry | Generally less flexible when dry |
| Sand ability | Easily sanded when dry | Can be sanded when dry |
Wood glue or white glue, what's the difference?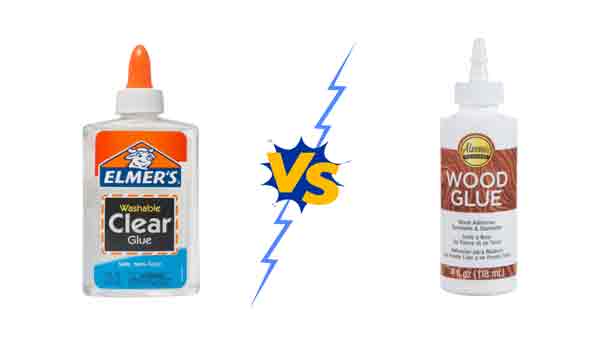 Read More About How Do You Get Gorilla Glue Off Your Fingers
What is Wood glue?
Wood glue, often referred to as Titebond or yellow glue, is a versatile adhesive used in woodworking. It's a strong, water-based adhesive that dries clear and bonds wood pieces together, creating sturdy and durable connections in various woodworking projects.
What Is Wood Glue Made?
Wood glue is made from Polyvinyl acetate, a synthetic plastic resin. This adhesive, commonly known as PVA glue, is formulated to bond wood surfaces effectively, providing strong and durable connections in woodworking projects.
Application Of Wood Glue
Wood glue is ideal for bonding pieces of wood together in various projects.
It provides strong and durable connections suitable for indoor and outdoor projects.
Use wood glue for assembling cupboards, ensuring sturdy joints and lasting furniture.
It secures joints in woodworking, enhancing structural integrity.
Wood glue is essential for DIY woodworking tasks.
Connection of porous materials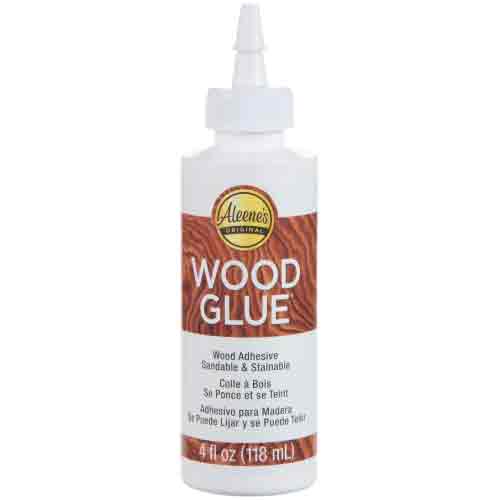 How Fast Does Wood Glue Dry?
Wood glue typically dries within 30 to 60 minutes under optimal conditions. To ensure a strong bond, it's essential to clamp the glued pieces together during this drying period for the best results. 
Is Wood Glue Permanent?
Wood glue forms a permanent and stronger bond between wooden surfaces, making it an ideal choice for woodworking projects where durability and stability are essential.
Is Wood Glue Waterproof?
Wood glue is typically water resistant, meaning it can withstand occasional exposure to moisture without losing its adhesive properties. However, it's not entirely waterproof and may eventually degrade if submerged or exposed to prolonged wet conditions.
How Long Does Wood Glue Last?
Wood glue typically has a shelf life of one to two years when stored properly. After this period, its adhesive properties may diminish, making it less effective for bonding wood.
Is Epoxy Glue Good For Wood?
Epoxy glue is excellent for wood due to its exceptional strength and durability. It forms a robust bond, ideal for various woodworking projects, ensuring long-lasting and reliable connections between wooden surfaces.
What Is Elmer's Glue? Why Is It Called Elmer's Glue?
Elmer's Glue is a popular brand of school glue. It's named after Elmer, the spouse of Borden's Glue founder Gail Borden. Elmer's Glue is renowned for its adhesive properties in various craft and school projects. It's cheaper than wood glue.
Read More About Is Gorilla Glue Aquarium Safe
What Is Elmer's Glue Good For?
Elmer's glue is versatile, suitable for various tasks. It adheres leather, ceramics, fabric, and wood effectively. Use it for crafts, repairs, and DIY projects, offering a reliable bond across these diverse materials.
Application Of Elmer's Glue
Elmer's glue is versatile and suitable for various applications. Use white glue to bond wood and paper, arts and crafts, making it ideal for crafts and repairs. Additionally, it's a key ingredient in making some slime, a popular DIY project for kids.
How Do You Make Elmer's Glue?
To make white Elmer's glue at home, mix 1/4 cup hot water with 1 tablespoon dry milk. Add 1 teaspoon vinegar and a pinch of baking soda. Stir until smooth. Let it cool, and you'll have a homemade version of Elmer's glue.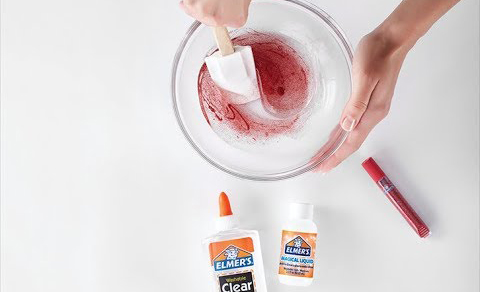 Is Fevicol The Same As Elmer's Glue?
Yes, Fevicol and Elmer's white glue are equivalent in some applications. Both can be used as adhesives but have different formulations and properties, making them suitable for various tasks. This glue dries clear over time.
What Was Elmer's Glue Originally Made Of?
Carpenter Glue was originally made of casein, a protein found in milk. This adhesive was created by mixing casein with water and other additives to create a versatile and widely used bonding agent.
Why Is Elmer's Glue So Strong?
It's stronger due to its unique polyvinyl acetate formula, creating robust adhesive bonds. This compound forms tight connections between surfaces, enhancing its adhesive strength and making it a dependable choice for various applications.
Is Elmer's Glue Eco Friendly?
Elmer's Glue is fully eco-friendly as it contains synthetic ingredients. While it's water-based and biodegradable, its production has no environmental impacts.
Elmer's Glue Vs Wood Glue: Head-To-Head Comparison
Strength and Durability
Elmer's Glue is stronger than regular white glue, making it a reliable choice for various DIY projects. Wood glue, however, offers superior bonding properties, ensuring a long-lasting and durable connection between wood pieces. If you prioritize strength, go for wood glue.
Bonding Properties
White glue works best for paper and lightweight crafts, but wood glue surpasses it in bonding wooden materials. Wood glue's superior adhesion and durability make it worth considering for woodworking projects where a strong bond is essential.
Drying Time
Elmer's glue-all has a quicker drying time compared to wood glue, which can take longer to set completely. If you need a fast project turnaround, Elmer's is the go-to choice. However, if you can afford the time, wood glue provides a more robust bond once it's fully cured.
Waterproof and Weather Resistance
Elmers Glue is not inherently waterproof or weather-resistant, making it susceptible to damage in wet conditions. Wood glue, on the other hand, offers better protection against moisture and weather, making it the preferred option for outdoor or water-exposed projects. Wh
Can I Use Elmer's Glue Instead Of Wood Glue?
While Elmer's Glue is a versatile adhesive, there is a difference between wood glue and Elmer's Glue. While you can use Elmer's Glue for some woodworking projects, it shouldn't replace wood glue for structural or load-bearing applications.
Factors to Consider When Choosing a Glue
Material Compatibility: Ensure the glue is suitable for the materials you're bonding.
Bond Strength: Assess if it meets your required strength, be it temporary or permanent.
Drying Time: Consider how quickly it sets and cures.
Application Method: Choose between liquid, gel, or solid adhesive forms.
Toxicity: Check if it's safe for your intended use, especially for food contact or children's projects.
Weather Resistance: Determine if it can withstand environmental conditions.
Flexibility: Consider if the bond needs to be rigid or flexible.
Ease of Use: Evaluate the application process and any special instructions.
Cleanup: Determine how easy it is to clean up excess glue.
Longevity: Decide if it's for a temporary or long-term project.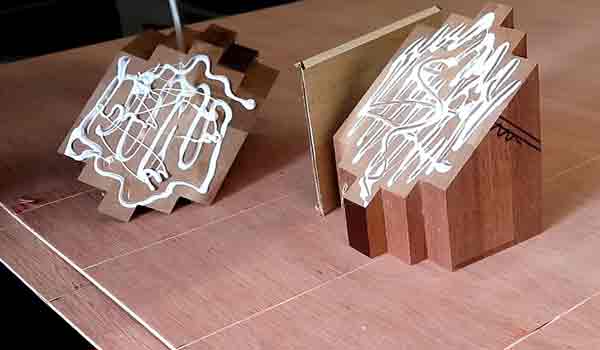 Tips For Using Wood Glue And White Glue
When working with wood, opt for wood glue for a stronger bond.
White glue is versatile and suitable for various materials.
Apply a thin coat of glue for the best results.
Wood glue typically dries clear, ensuring a neat finish.
For a better experience, ensure a clean and dry surface before gluing.
Both types of glue can be cleaned up easily with water, making for hassle-free projects.
While elmer's glue is ideal for school projects and art and crafts, wood glue is the recommended choice for woodworking projects.
When it comes to comparing elmer's glue to other types of glue such as pva glue, hot glue, and super glue, it is important to consider the intended use. Can be difficult to remove if excess glue is applied.
Frequently Asked Questions Of Elmer'S Glue Vs Wood Glue
Can we mix fevicol with water?
Yes, you canmix Fevicol with water. Fevicol is a water-resistant adhesive and mixing it with water would not create a homogeneous mixture; instead, it may weaken its adhesive properties.
Is wood glue stronger than screws?
Wood glue is excellent for bonding wood surfaces by creating a strong, adhesive bond. However, screws provide additional mechanical strength, making them suitable for structural support and applications requiring load-bearing capacity.
What is stronger than wood glue?
Epoxy resin is often stronger than wood glue. Epoxy offers exceptional bonding strength, durability, and resistance to various environmental factors, making it a preferred choice for many demanding applications in woodworking and construction.
Is fevicol a wood glue?
Fevicol is not specifically categorized as a wood glue but is a popular adhesive in many countries. It is a multipurpose adhesive suitable for various materials, including wood.
What is stronger than wood glue?
Elmer's Carpenter's glue is stronger than the wood glue and it's waterproof, stainable, and sandable.
Conclusion
In conclusion, the choice between Elmer's Glue vs Wood Glue depends on your specific project needs. Elmer's Glue excels in versatility, while Wood Glue offers superior bonding for woodworking applications.