Will New Foam Sealant Stick To Old Spray Foam Insulation?
Whether new foam sealant will stick to old foam sealant depends on several factors such as the type of foam,…
Whether new foam sealant will stick to old foam sealant depends on several factors such as the type of foam, its condition, and the compatibility of the products. Generally, it's best to remove old foam before applying new to ensure a proper bond and seal.
Do You Have To Remove Old Insulation Before Spraying Polyurethane Foam?
When considering spray foam insulation, it might be a better choice to remove old insulation if it's damaged or inadequate. While not always necessary, removing old insulation can improve the effectiveness of the new spray foam, ensuring a tighter seal and better thermal performance.
However, consult with a professional to assess your specific situation and determine the best approach.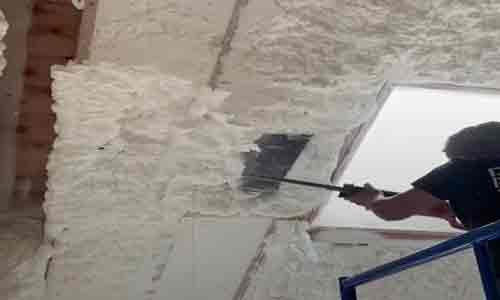 Read Also Alternative to Dicor Lap Sealant for Your Projects
Can You Spray Foam Over Existing Foam?
Yes, it is possible to use spray foam insulation to insulate over existing foam. This method can enhance the insulation properties of your space by adding an additional layer of insulation.
However, it's essential to ensure that the existing foam is clean, dry, and in good condition before applying the new spray foam for optimal results and energy efficiency.
Can You Caulk Over Expanding Foam?
Yes, you can caulk over expanding foam. Expanding foam is often used to seal gaps around a window or door frame to insulate and prevent drafts. After the foam has dried and expanded, you can apply caulk along the edges to create a neat and finished look. This seals the gap effectively and provides additional insulation.
Will New Foam Sealant Stick To Old Walls?
New foam sealant can adhere effectively to old walls when applied by a skilled insulation contractor. Proper surface preparation, including cleaning and removing any loose debris, is crucial for a secure bond.
A professional insulation contractor will ensure that the foam sealant sticks firmly to the existing wall surfaces, enhancing insulation and sealing performance.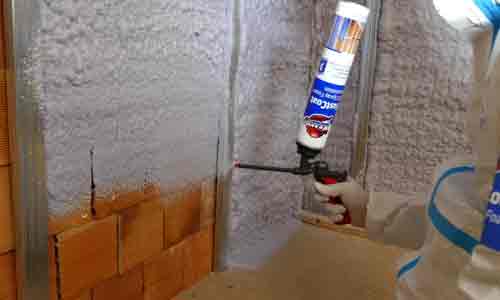 Will New Foam Sealant Stick To Old Ceiling?
New foam sealant typically adheres well to an old ceiling. It's essential to clean the surface, remove any loose debris, and ensure proper adhesion for insulation. If the ceiling contains fiberglass or studs, new foam sealant can be applied to fill cavities effectively.
Does Expanding Foam Stick To Vaseline?
Expanding foam does not stick to Vaseline. Vaseline acts as a barrier, preventing foam adhesion. For proper bonding, avoid applying foam over surfaces coated with Vaseline. Instead, use silicone or other suitable sealants for a strong connection.
Will Spray Foam Stick To Foam Board?
Spray foam adheres excellently to foam boards, creating a reliable bond. This combination is commonly used in construction for insulation purposes. The foam insulation's compatibility with foam boards ensures a tight seal and enhanced thermal performance.
Does Expanding Foam Stick To Plastic?
Expanding foam may adhere to some plastics, depending on the type. It's important to check compatibility and conduct a small test first. Certain plastics may resist foam adhesion, while others may bond effectively, creating a secure seal.
Does Spray Foam Stick To Metal?
Spray foam can adhere to metal surfaces, making it suitable for insulating metal structures. Proper surface preparation is crucial for a strong bond. Ensure the metal is clean and free from contaminants to maximize the foam's adhesion, especially in cavity insulation applications.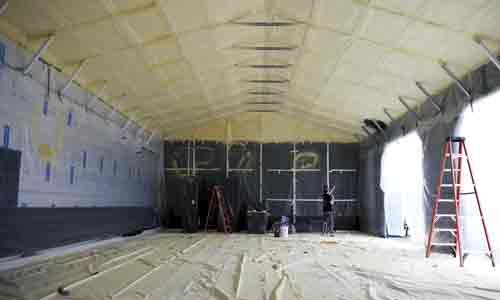 Does Spray Foam Stick To Silicon?
Spray foam typically adheres well to cured silicone. Cured silicone surfaces are non-porous and smooth, making a strong bond.
Does Expanding Foam Stick To Wet Surfaces?
Expanding foam doesn't adhere to wet surfaces due to its water-repellent nature. Moisture interferes with the foam's curing process, preventing a secure bond. This foam isn't made for wet surfaces. So don't use them on wet surfaces.
What Does Expanding Foam Not Stick To?
Expanding foam does not stick well to surfaces that are consistently moist or wet.
It may not adhere properly to surfaces with a significant amount of moisture.
It does not bond effectively around electrical outlets, making it safe for use around them.
Expanding foam may not stick to surfaces contaminated with oils or greases.
It doesn't adhere to surfaces where air leaks are present, reducing its effectiveness in sealing such gaps.
Where You Can Use Foam Sealant?
Use foam sealant in home improvement projects to seal gaps and cracks.
Apply it around windows and doors to improve energy efficiency.
Seal gaps in the crawl space to prevent pests and moisture infiltration.
Use in new construction to seal joist cavities for insulation.
Fill voids and gaps in walls and ceilings for better insulation.
Drywall, as fiberglass batt insulation, siding
Seal gaps around plumbing and electrical penetrations for airtightness.
Enhance the performance of fiberglass insulation by sealing gaps before installation.
Cavity that needed an airtight seal to prevent air bubbles
How To Remove Old Spray Foam Insulation
Begin by putting on protective gear, including gloves, safety goggles, and a respirator mask to avoid inhaling any particles.
Use a utility knife or a serrated blade to carefully cut away any excess or protruding foam insulation.
If the foam insulation is on a flat surface, use a paint scraper or putty knife to gently scrape away the top layers.
To dissolve and soften the foam, apply acetone to the affected area using a cloth or sponge. Allow it to sit for a few minutes to break down the foam.
After the foam has softened, use a scrub brush or abrasive pad to gently scrub away the insulation.
Rinse the area with water to remove any remaining acetone and foam residue.
Repeat the process as needed until all the old spray foam insulation is removed.
Dispose of any waste materials properly, following local regulations for hazardous waste if necessary.
Can You Use Foam Sealant More Than Once?
No, foam sealant typically cannot be used more than once the canister or container has been opened and the foam has been dispensed. Foam sealants, such as expanding polyurethane foam, are designed to expand and cure upon exposure to air.
Once the foam has been dispensed and exposed to the air, it begins to harden and cure, and it cannot be resealed or reused.
Read Also How To Remove Sealant From Tiles [Easy Steps with Tips & Techniques]
How Do You Reuse Foam Sealant?
Foam sealant, also known as expanding foam or spray foam, is typically a one-time use product because it hardens and cures once exposed to air. However, there are some strategies you can try if you want to reuse a partially used foam sealant can:
Immediate Reuse
If you plan to use the remaining foam sealant in the near future, you can leave the applicator nozzle attached to the can. Be sure to remove any excess foam from the nozzle's tip.
The foam inside the nozzle may harden, but you can typically remove it by breaking or cutting it away before using it again. Remember to shake the can vigorously before the next use to ensure proper mixing.
Cap Replacement
Some foam sealant cans come with replacement nozzles or caps. If yours does, you can replace the original nozzle or cap with a clean one after use. Make sure the replacement nozzle or cap is tightly sealed to prevent air from getting inside the can.
Store Upside Down
To extend the life of the foam sealant, you can store the can upside down after use. This helps create a seal between the can's contents and the nozzle, reducing exposure to air. It may prolong the usability of the foam sealant for a short period.
How Thick Can Spray Foam Be Applied?
The thickness of spray foam insulation varies from manufacturer to manufacturer and product to product, but it typically ranges from 1/2 inch to several inches.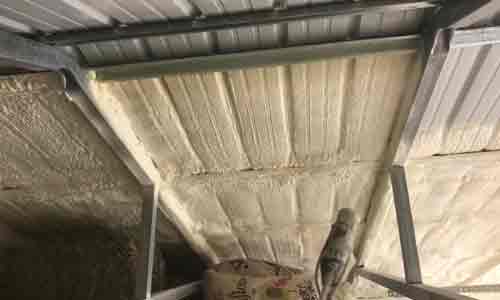 Can You Cement Over Foam?
Cement can be applied over foam as long as the foam is properly prepared with a suitable adhesive and surface treatment.
Health Benefits Of Removing Old Insulation
Removing old insulation can bring several health benefits. Over time, insulation can degrade, leading to the release of harmful particles like asbestos or mold, which may come into contact with occupants.
This can result in respiratory issues and allergies. Building science experts recommend replacing old insulation to improve indoor air quality, reduce health risks, and enhance overall comfort and energy efficiency in your home.
Factors Affecting Foam Sealant Adhesion
Surface cleanliness: Adhesion is influenced by the cleanliness of the substrate.
Material compatibility: Compatibility between foam sealant and substrate materials is crucial.
Temperature and humidity: Weather conditions can impact adhesion.
Cure time: Proper curing allows for better adhesion.
Application technique: Proper application methods ensure even coverage.
Chemical resistance: Resistance to chemicals can affect long-term adhesion.
Surface texture: Smooth vs. rough surfaces can impact adhesion.
Moisture content: Moisture levels in the substrate can affect bonding.
Tips for Using Expanding Foam Insulation
Check the expiration date on the expanding foam insulation canister to ensure it's still effective.
Select the appropriate type of insulation material for your project, considering factors like R-value and intended use.
Follow safety instructions on the product label, including wearing protective gear and working in a well-ventilated area.
Shake the canister thoroughly before use to mix the components properly.
Apply the foam inside the spray area evenly, filling gaps and crevices to prevent heat loss in heating and cooling systems.
Allow the expanding foam insulation to let it dry completely before cutting or trimming excess.
Clean tools and equipment with acetone or a recommended solvent to prevent buildup.
Dispose of empty canisters and waste according to local regulations to protect the environment.
Regularly inspect the insulation for any damage or wear and make necessary repairs.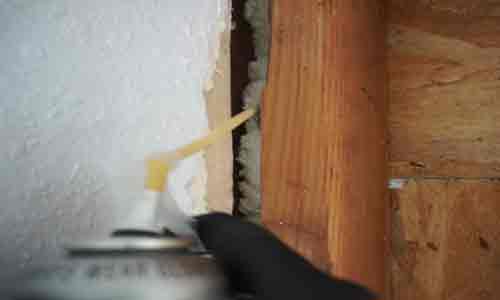 FAQs
Is Spray Foam Permanent?
Spray foam insulation is long-lasting and can remain effective for decades if properly installed and maintained, but it may need occasional maintenance or replacement over time.
Is Spray Foam Waterproof?
Spray foam is not inherently waterproof but can act as a moisture barrier when applied correctly. However, it should not be relied upon solely for waterproofing in extreme conditions.
Is Expanding Foam Waterproof?
Expanding foam can resist water to some extent but is not completely waterproof. It can be used for sealing gaps and cracks, but it may not provide long-term waterproofing.
How Long Does Foam Sealant Last?
The longevity of foam sealant varies based on environmental factors and quality. Typically, it can last for several years, but it may deteriorate or lose effectiveness over time.
How Long Does Foam Sealant Take To Harden?
Foam sealant usually takes about 15 minutes to an hour to harden, but curing times can vary depending on the product, temperature, and humidity levels.
How Long Does Spray Foam Sealant Last?
Spray foam sealant can last for 20-30 years or more when properly installed. However, its lifespan depends on factors such as climate, maintenance, and exposure to UV rays.
What are the limitations of silicone sealants?
Silicone sealants are durable and flexible but have limitations, including vulnerability to UV exposure, limited paintability, and difficulty in adhering to certain surfaces like untreated wood.
What is the difference between open cell and closed cell spray foam?
Open-cell spray foam is less dense, provides sound insulation, and is vapor-permeable. Closed-cell spray foam is denser, offers better insulation, and acts as a vapor barrier. Both have unique applications.
What Can Spray Foam Insulation Stick To?
Conclusion
In summary, the crucial question remains: "Will new foam sealant stick to old?" Proper adhesion is paramount for effective sealing, demanding careful consideration and testing before application.