Making the Right Choice: Sikaflex 715 vs Dicor
The main difference between Sikaflex 715 vs Dicor is their drying characteristics. Sikaflex dries like rubber, is paintable, and stretches…
The main difference between Sikaflex 715 vs Dicor is their drying characteristics. Sikaflex dries like rubber, is paintable, and stretches like rubber when dry, while Dicor dries like putty, lacks elasticity, and tends to break when stretched.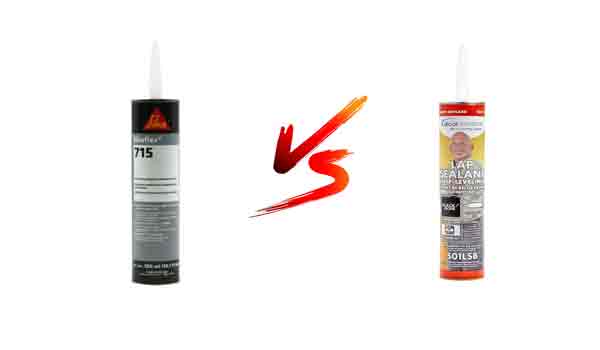 Sikaflex 715 vs Dicor: Main Difference
| | | |
| --- | --- | --- |
| Points | Sikaflex 715 | Dicor |
| Ingredients | Polymer | Petroleum distillate |
| Durability | 6-9 months | 20 years |
| Time to Cure | 2 to 5 days | 30 days |
| VOC | Low | None |
| Cost | Less Expensive | Expensive |
| Roofing Components | EPDM, Aluminum, Chromate, Anodized metal | Galvanized Metal, Plastic, Wood, Vinyl, Fiberglass |
| Warranty | 1 year | Limited lifetime |
Read More About What To Do If Waterfall Foam Sealant Swallowed [Mistakes to Avoid]
What is Sikaflex 715?
Sikaflex 715 is a popular RV roof sealant. This versatile adhesive and sealant is designed to provide exceptional weather resistance and durability, making it ideal for sealing and protecting RV roofs from leaks and damage.

Ingredients of Sikaflex 715
Polyurethane polymer
Silane-terminated polymer
Solvents and additives
Fillers and pigments
Pros of Sikaflex 715
Excellent adhesion to various substrates
High flexibility and durability
Good weather resistance
Paintable and sandable
Versatile for bonding and sealing applications
Low VOC content
Cons of Sikaflex 715
Requires proper surface preparation
Not suitable for underwater applications
Longer curing time compared to some alternatives
What Sikaflex Is Used For?
Used the sikaflex for Sealing joints in construction
Bonding and repairing various materials
Automotive and marine applications
Weatherproofing and sealing in building construction
Industrial and DIY projects for a reliable sealant and adhesive.
Used on flat or nearly flat surfaces
Dicor Self-leveling Sealant
Dicor is a renowned brand known for its high-quality self leveling sealant. This versatile product ensures a watertight seal, making it ideal for RV roofs and other applications. Its ease of use and durability have earned it a solid reputation among DIY enthusiasts and professionals alike.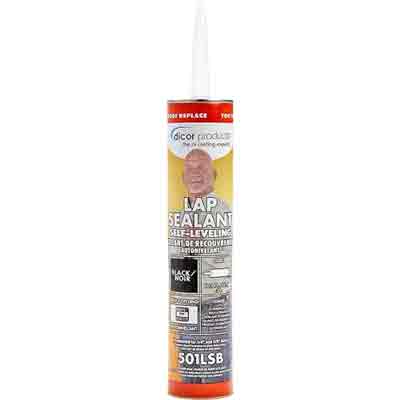 Ingredients
Dicor is a brand of roofing sealant commonly used in RVs and mobile homes.
Primary ingredients include synthetic rubber polymers, petroleum distillates, and fillers.
May contain additives for UV resistance and adhesion improvement.
Pros of Dicor
Excellent sealing properties for roofs, preventing leaks.
Long-lasting durability, even in harsh weather conditions.
Resistant to UV rays, reducing sun damage.
Easy application with a caulk gun or brush.
Bonds well to various roofing materials, such as EPDM roof and TPO.
Available in different formulations for specific needs.
Flowable sealant
Cons of Dicor
Strong chemical odor during application.
May require periodic resealing, especially in extreme climates.
Not suitable for use on vertical surfaces.
Initial cost can be relatively high compared to other sealants.
Cleanup can be challenging due to its adhesive nature.
Potential skin and eye irritant; use caution during application.
What is Dicor Used For?
Dicor is primarily used to seal and protect the roofs of recreational vehicles (RVs) and mobile homes.
It creates a watertight barrier, preventing water infiltration and potential interior damage.
Also suitable for sealing roof vents, air conditioners, and other roof-mounted accessories.
Commonly chosen for its reliability in the RV and mobile home industry.
Used on horizontal surfaces, not on vertical surfaces.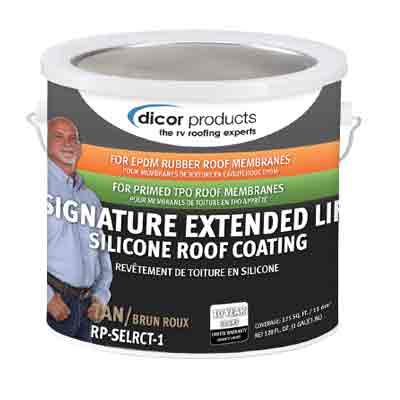 Read Also Why Do Foam Sealant Turn Yellow [Reasons with Explanation]
Comparison: Dicor Or Sikaflex
Durability and Strength
Dicor self-leveling sealant and Sikaflex are both popular choices for rv owners and construction applications. Sikafles is not strong like Dicor. In terms of durability, Dicor tends to have a slight edge due to its exceptional bonding properties and long-lasting performance.
It offers better resistance to cracking and tearing over time. However, both products provide a satisfactory level of strength, making them suitable for various sealing needs.
Weather Resistance
When it comes to weather resistance, both Dicor and Sikaflex are highly effective. They can withstand harsh weather conditions, including UV exposure and temperature fluctuations, ensuring a dependable seal that lasts for years. This resilience ensures a better experience, whether you're sealing an RV roof or a construction joint.
Drying/Curing Time
Drying or curing time is an essential factor in project efficiency. Sikaflex sealant typically dries faster than Docpr, allowing for quicker completion of sealing tasks. However, Dicor's longer curing time often results in a more robust and longer-lasting bond, balancing the equation.
Price
Regarding price, Sikaflex sealant is generally more budget-friendly than Dicor self leveling sealant, making it an attractive choice for cost-conscious consumers. It offers a cost-effective solution without compromising on quality.
Color
Dicor offers a limited range of colors, primarily designed to match RV roof materials, while Sikaflex provides a broader spectrum of color choices, allowing for better customization and coordination with various projects.
How Do You Remove Sikaflex 715?
To remove Sikaflex 715 adhesive sealant, follow these steps:
Safety First: Wear appropriate protective gear, such as gloves and safety glasses, to protect yourself.
Preparation: Ensure the area is well-ventilated and free from any open flames or sparks.
Tools: Gather the necessary tools, including a utility knife or razor blade, a plastic scraper, and rubbing alcohol to clean.
Cutting: Carefully use the utility knife or razor blade to cut away as much of the Sikaflex as possible without damaging the underlying surface.
Scraping: Use the plastic scraper to gently pry and scrape off the remaining Sikaflex. Be patient to avoid surface damage.
Cleaning: Apply rubbing alcohol to a clean cloth and thoroughly clean the residue. This will help dissolve any remaining Sikaflex and leave a clean surface.
Inspect: Ensure all Sikaflex residue is removed, and the surface is smooth and clean.
Dispose: Dispose of the waste materials properly, following local regulations.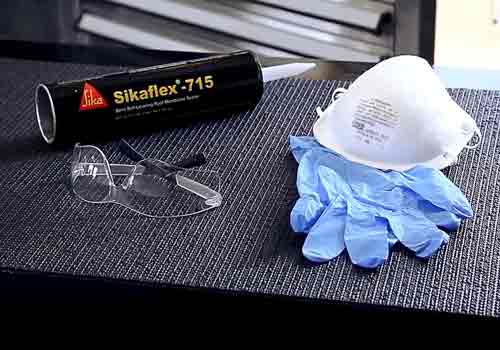 Can I Use Sikaflex for Tiles?
Sikaflex is not recommended for tiling applications. It's primarily used as a sealant and adhesive for various construction purposes but isn't ideal for adhering or grouting tiles. It lacks the necessary properties and adhesion strength required for a durable tile installation.
Can You Mix Sika with Cement?
Yes, you can mix some Sika products with cement for specific applications. Sika offers a range of concrete admixtures and additives that can be blended with cement to enhance properties like workability, durability, and waterproofing.
Considerations For Choosing Between Sikaflex 715 And Dicor
RV maintenance is crucial to prevent leaks and ensure the longevity of your vehicle. Sikaflex 715 and Dicor are popular choices for sealing RV roofs and seams. Sikaflex 715 is a versatile adhesive and sealant known for its durability and flexibility.
Dicor is a trusted brand specializing in self-leveling caulk designed specifically for RV applications. Consider the condition of your RV roof; Sikaflex 715 may be better for more extensive repairs. Dicor's self-leveling caulk is ideal for quick and easy applications on flat or slightly sloped surfaces.
Assess your skill level; Sikaflex 715 may require more expertise, while Dicor is user-friendly. Budget also plays a role; Dicor is often more cost-effective for routine RV maintenance.
FAQs
Which Sealant Is 100% Silicone?
A sealant that is 100% silicone is typically labeled as "100% silicone sealant." It's known for its excellent flexibility, water resistance, and durability in various applications.
Is Sikaflex 221 Acid Resistant?
Sikaflex sealants vary in their resistance to acids. Some Sikaflex products offer acid resistance, but it's crucial to check the specific product's datasheet for accurate information.
What Is Lap Sealant Used For?
Lap sealant is commonly used in RV rubber roofing to seal joints, seams, and overlaps, providing a watertight and weather-resistant barrier against leaks and damage.
Can You Use Dicor On PVC Roof?
Yes, you can use Dicor lap sealant on a PVC roof. It's designed to adhere well to various roofing materials, including PVC, ensuring a secure seal.
Can I Paint Dicor?
Dicor lap sealant can be painted over after it has fully cured. Make sure to choose a compatible paint and follow the manufacturer's recommendations for best results.
What Is Cap Sealant?
Cap sealant is a specialized sealant used to secure roofing caps and covers, providing weatherproofing and preventing water intrusion in roofing systems.
What Can I Use Instead Of Dicor Lap Sealant?
If Dicor lap sealant isn't available, you can consider alternatives like butyl tape or other RV-specific sealants recommended for your specific application.
Can You Put Dicor Over Old Sealant?
Applying Dicor lap sealant over old sealant is generally not recommended, as it may not adhere well. It's advisable to remove the old sealant before applying a new layer for a reliable seal.
Is Dicor stronger than 4200?
No, Dicor is not necessarily stronger than 4200. The strength of a sealant or sealer depends on various factors, including the specific product formulation and its intended use.
Sikaflex-715 | Self-Leveling Roof Membrane Sealer for RVs
Conclusion
In conclusion, the choice between Sikaflex 715 vs Dicor depends on your specific needs. Both of these two products work like a charm. Sikaflex 715 offers excellent adhesion and sealing properties, while Dicor is renowned for its durability in RV applications. Consider your project requirements and priorities when selecting between Sikaflex 715 and Dicor for optimal results.