Why Does Sealant Foam Rot (Solutions included)
Did you notice the rotted sealant foam? So, why does sealant foam rot? Sealant foam can rot over time due…
Did you notice the rotted sealant foam? So, why does sealant foam rot? Sealant foam can rot over time due to exposure to moisture, UV radiation, and environmental factors. These conditions can cause the foam to degrade, lose its effectiveness, and eventually break down, leading to sealant failure.
Why Does Sealant Foam Rot On Wood
Sealant foam, particularly open cell foam insulation, can deteriorate on wood surfaces due to various factors, primarily moisture, UV exposure, temperature fluctuations, inadequate application, and chemical interactions.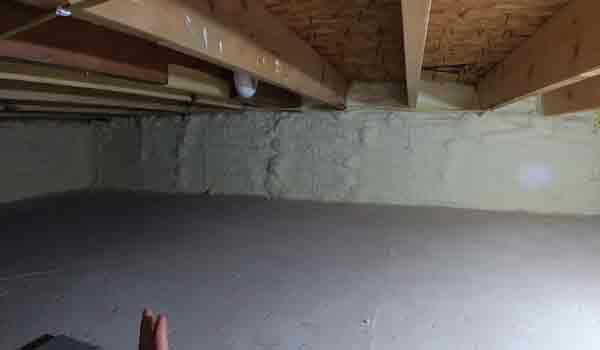 Read More About Will New Foam Sealant Stick To Old Spray Foam Insulation?
Moisture Problems
Moisture is a significant culprit as it can infiltrate the wood, causing it to swell and contract, leading to a breakdown of the foam's adhesive properties. This can result in a compromised seal and reduced insulation effectiveness.
UV Exposure
UV exposure can cause the foam's surface to degrade, making it less resilient and prone to cracks.
Temperature Fluctuations
Temperature fluctuations can exacerbate this process, as expansion and contraction stress the seal.
Inadequate Application
Inadequate application, such as improper sealing or gaps, leaves room for moisture and air infiltration.
Chemical Interactions
Chemical interactions between the foam and wood can also weaken the seal, compromising its ability to act as a vapor barrier.
Does Expanding Foam Rot Wood?
Expanding foam, such as closed cell foam, helps insulate and create an effective air barrier. However, if moisture gets trapped between the foam and wood, it can lead to wood rot over time. Proper installation, including sealing gaps and providing ventilation, is vital to prevent this issue.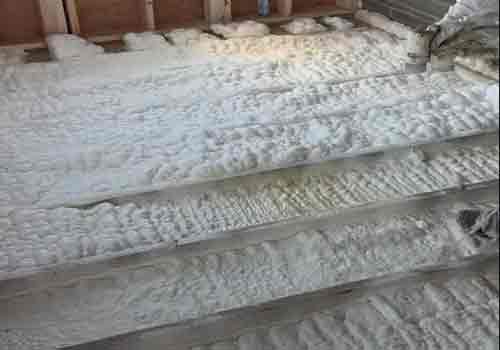 Can Closed Cell Spray Foam Rot Your Roof?
Closed cell spray foam is excellent for roof insulation, providing a strong air barrier. However, if not installed correctly or if moisture accumulates beneath the foam, it can potentially lead to roof rot. Ensuring proper ventilation and addressing any leaks are essential to prevent such problems.
Why Does Sealant Foam Rot When Wet?
Sealant foam, particularly spray foam insulation, can rot when exposed to moisture due to several factors. While spray foam insulation boasts a high R-value and exceptional insulating properties, it is not immune to water damage.
When moisture infiltrates the foam, it can lead to rot for a few reasons.
Firstly, the porous nature of spray foam allows water to seep into its structure. Once trapped, moisture can foster the growth of mold and mildew, breaking down the foam's integrity over time.
Additionally, the chemicals used in some spray foams can degrade when constantly exposed to moisture, further accelerating the rotting process.
Inadequate installation or damage to the foam's protective outer layer can also contribute to water infiltration. Therefore, it's crucial to ensure proper sealing and maintenance to prevent moisture-related issues.
Does Polyurethane Foam Rot?
Homeowners often wonder if polyurethane foam, including open-cell spray foam insulation, can rot. The good news is that polyurethane foam is resistant to rotting. Its closed-cell structure repels moisture, preventing the growth of fungi and decay.
This makes it a durable and long-lasting choice for insulation, ensuring that your home remains well-protected against the elements for years to come.
Read Also Can I Spraying Foam Sealant Under My Kitchen Sink Pipes [Answered with Guide]
Does Spray Foam Cause Dry Rot
Concerns about open-cell spray foam insulation causing dry rot are common among homeowners. However, it's important to clarify that spray foam insulation itself does not cause dry rot.
Dry rot typically occurs due to excessive moisture in the building materials. When properly installed and sealed, spray foam can actually help prevent moisture infiltration, reducing the risk of dry rot. Regular maintenance and addressing any water leaks are key to keeping your home dry rot-free.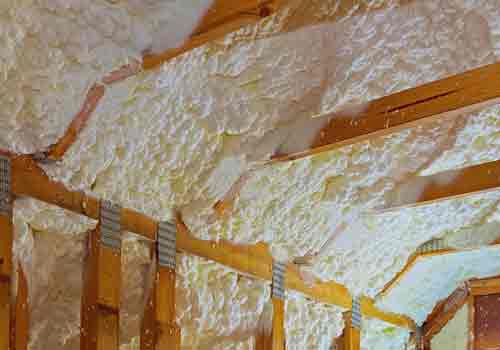 How To Use Foam Sealant
1. Preparation
Start by wearing appropriate personal protective equipment, including gloves and safety goggles.
Ensure the area you're working in is well-ventilated.
Clean the surface where you plan to apply the foam sealant to remove dust, debris, and loose materials.
2. Selecting the Right Type
Consult building science experts or product labels to choose the appropriate foam sealant for your specific application.
Consider factors like temperature, moisture, and compatibility with materials like batt insulation.
3. Shake the Can
If you're using canned foam sealant, shake the can vigorously to ensure proper mixing of the components.
4. Application
Insert the nozzle or straw into the gap or crack you want to seal.
Apply the foam sealant in a slow and controlled manner, filling the gap halfway initially to allow for expansion.
Use a continuous motion to create a consistent seal, avoiding overfilling.
5. Expansion and Cure
Allow the foam sealant to expand and cure according to the manufacturer's instructions.
Ensure proper curing before cutting off any excess foam.
6. Cleanup
If necessary, trim excess foam using a knife or saw once it's fully cured.
Clean any tools or equipment used with a foam sealant according to the manufacturer's recommendations.
7. Safety Precautions
Always follow safety guidelines and recommendations provided on the product label.
Leave the foam undisturbed during the curing process.
Be cautious when working on roof decks or other elevated surfaces to prevent accidents.
How To Identify Rotten Wood
Inspecting wood for rot is crucial for maintaining the integrity of your roofline and preventing damage.
Check for soft or spongy areas when you press on the wood, which may indicate rot.
Look for discoloration, as rotten wood often appears darker than healthy wood.
Examine the surface for cracks, splits, or peeling paint, which can be signs of decay.
Inspect where open cell spray foam insulation comes in contact with the wood, as moisture can seep through.
Pay special attention to cold roof sheathing, as it is vulnerable to moisture infiltration and potential rot.
If you've used spray closed cell foam insulation, ensure it was applied correctly to prevent moisture accumulation.
Be aware that improper insulation installation, like spray foam, can really rot your roof over time.
Regularly maintain and inspect your roof to catch wood rot early, avoiding costly repairs.
How To Solve Rotten Wood Issue
Identify the extent of the rotten wood: Inspect the affected area to determine the scope of the damage.
Safety first: Wear protective gear like gloves and a mask to prevent exposure to mold and dust.
Remove the rotten wood: Use a chisel, saw, or pry bar to carefully remove all decayed wood until you reach healthy wood.
Treat for mold: If mold is present, clean the area with a mixture of water and mild detergent or a commercial mold cleaner.
Allow to dry: Ensure the area is completely dry before proceeding.
Fill with wood filler: Use epoxy wood filler to fill the void left by the removed wood. Follow the manufacturer's instructions.
Sand and smooth: Once the filler has dried, sand it down to create a smooth surface.
Prime and paint: Apply a wood primer and then paint to protect the repaired area from moisture.
Address the cause: Identify and fix the source of moisture that caused the wood to rot, such as leaks or poor ventilation.
Regular maintenance: Inspect and maintain wooden structures to prevent future rot, including sealing and painting as needed.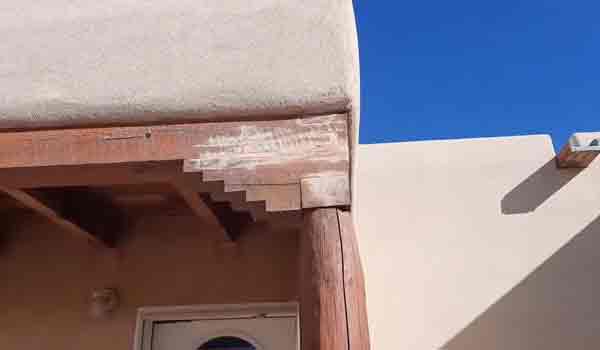 Read Also Can I Use Foam Sealant For Gaps In Shower Fixtures 
How To Prevent Rot
Properly store and handle food
Keep perishable items refrigerated at or below 40°F (4°C).
Use airtight containers to seal food and prevent exposure to moisture.
Rotate food items to use older items first and reduce the chance of spoilage.
Maintain a clean environment:
Regularly clean and sanitize storage areas, such as refrigerators and pantries.
Store food away from areas with high humidity or temperature fluctuations.
Monitor expiration dates:
Check the expiration dates on food products and discard items that have passed their dates.
Use appropriate packaging:
Vacuum-seal or use airtight bags to store items like grains, flour, and cereals.
Seal opened bags or packages tightly with clips or rubber bands.
Keep fruits and vegetables fresh:
Use produce drawers in the refrigerator to control humidity levels.
Store fruits and vegetables separately to prevent ethylene gas exchange.
Invest in a dehumidifier:
Reduce humidity levels in storage areas to deter mold and mildew growth.
Practice first-in, first-out (FIFO):
Use older items before newer ones to minimize food waste.
Inspect for damage:
Regularly check food items for signs of damage, pests, or spoilage and remove affected items promptly.
FAQs
Will foam insulation stick to wood?
Foam insulation typically adheres well to wood surfaces when properly applied. Ensure the wood is clean and dry for the best adhesion, and consider using an adhesive for added security.
Is expanding foam waterproof?
Expanding foam is not inherently waterproof, but some formulations offer water resistance. For waterproof applications, choose a specific waterproof expanding foam or seal the foam with a waterproof coating.
What is the best adhesive for foam to wood?
The best adhesive for bonding foam to wood is typically a polyurethane-based adhesive or a construction adhesive designed for both materials. These provide a strong and durable bond.
Can I glue foam to wood with wood glue?
While wood glue can bond foam to wood, it may not provide the strongest or most durable connection. Polyurethane or construction adhesive is usually a better choice for a secure and lasting bond.
What is the strongest glue for wood to wood?
Epoxy and polyurethane-based adhesives are among the strongest options for bonding wood to wood. They create robust and long-lasting connections suitable for various woodworking applications.
Conclusion
Why does sealant foam rot? In conclusion, the degradation of sealant foam occurs due to various factors, including exposure to environmental elements, UV radiation, moisture infiltration, and chemical reactions. Understanding why does sealant foam rot is crucial for implementing proper maintenance and selecting suitable materials to ensure the longevity and effectiveness of sealant applications.