3m Adhesive Remover Vs Goo Gone: 2023
3M Adhesive Remover acetone which is best for tough heavy duty industrial adhesives, while Goo Gone a citrus-based cleaner is…
3M Adhesive Remover acetone which is best for tough heavy duty industrial adhesives, while Goo Gone a citrus-based cleaner is great for everyday household tasks with lighter sticky residues. Choose accordingly for your specific needs.
Here's a table summarizing the key distinctions:
| | | |
| --- | --- | --- |
| Aspect | 3M Adhesive Remover | Goo Gone |
| Manufacturer | Produced by 3M | Manufactured by Goo Gone |
| Chemical Composition | Typically contains acetone, | Contains a mixture of various citrus chemical |
| | petroleum distillates, and | petroleum-based and citrus |
| | citrus-based solvents | oils |
| Odor | Generally has a strong, | Often has a more pleasant and |
| | chemical odor | citrus-like scent |
| Surfaces | Safe for use on many surfaces, | Generally safe for various |
| Compatibility | including metals, glass, | surfaces, but it's essential |
| | plastics, and some fabrics | to test on a small, hidden |
| | | area first for compatibility |
| Residue Types | Effective for removing a wide | Effective against a variety |
| | range of adhesive residues, | of sticky residues, including |
| | including tape, stickers, | labels, tape, glue, gum, and |
| | and decals | more |
| Application | Available in aerosol spray | Typically comes in liquid or |
| Forms | cans or liquid form | spray form |
| Ease of Use | Easy to apply and remove | Easy to apply and remove |
| Environmental | Can contain harsh chemicals | Contains natural ingredients |
| Impact | and may not be as | and is often considered more |
| | environmentally friendly as | environmentally friendly |
| | Goo Gone | |
| Price | Pricing varies but can be | Generally affordable, often |
| | relatively expensive | less expensive than 3M Adhesive |
| | depending on the size and | Remover |
| | format | |
Also Read: Mod Podge Vs Elmers Glue
3M Adhesive Remover Overview

3M Adhesive Remover is a general-purpose adhesive cleaner by 3M, a trusted name in adhesive technology. This product is specially designed to tackle the challenging task of adhesive removal.
Whether it's sticky residue on your car paint or elsewhere, this clear coat-friendly formula is known for its effectiveness.
Key Features and Benefits
Effective Adhesive Removal: 3M's adhesive remover lives up to its reputation, effortlessly eliminating adhesive goo and residue.
Clear Coat Friendly: It works without harming your car paint or clear coat, preserving the pristine appearance.
Versatile Use: Perfect for both professional and DIY projects, from automotive repairs to household chores.
Easy Application: Comes in a convenient spray bottle for hassle-free use.
Safe and Reliable: A trusted choice with 3M's seal of excellence.
How to Use 3M Adhesive Remover Effectively
Preparation: Ensure the surface is clean and dry before starting.
Application: Spray the 3M Adhesive Remover directly onto the adhesive.
Wait: Allow the product a few minutes to penetrate and soften the adhesive.
Scrape: Use a plastic scraper to gently remove the softened adhesive.
Clean: Wipe the area with a clean cloth to remove any remaining residue.
Pros
It Works: 3M's reputation for excellence ensures reliable adhesive removal.
Clear Coat Protection: Safe for car paint and clear coats, preventing damage.
Versatile: Suitable for various adhesive removal tasks.
Convenient Packaging: The spray bottle simplifies application.
Trusted Brand: 3M's seal of quality inspires confidence.
Cons
Odor: Some users may find the odor slightly strong, so use in a well-ventilated area.
Drying Time: It may require a bit of patience for the product to soften tough adhesives.
Overview of Goo Gone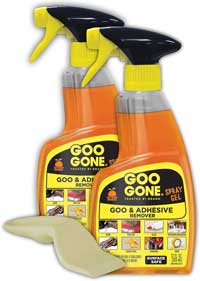 Goo Gone is a popular general purpose adhesive cleaner renowned for its effectiveness in removing stubborn stains and sticky substances. It's a go-to solution for tackling various adhesive-related issues.
Whether you're dealing with glue spills, adhesive residue, or sticky messes, Goo Gone is designed to make your cleaning tasks easier.
Key Features and Benefits
Multipurpose Solution: Goo Gone's versatility makes it suitable for tackling adhesives, gum, crayon marks, and even stubborn sticker residues.
Safe Formulation: It's formulated with different chemicals that are gentle on surfaces, ensuring it won't damage the underlying material.
Quick and Effective: Users can simply apply Goo Gone, let it sit briefly, and then effortlessly wipe away the residue, saving time and effort.
Stain-Free: Goo Gone excels at removing adhesive from carpet, leaving no unsightly marks or discoloration behind.
Decal Removal: It's a go-to solution for safely and effectively removing decals, whether on glass, metal, or plastic.
How to Use Goo Gone Effectively
Apply a small amount of Goo Gone to the adhesive residue.
Allow it to let it sit for a minute or two, allowing the product to penetrate and soften the residue.
Gently rub the area with a cloth or sponge to lift the residue away.
Wipe the surface clean with a damp cloth to remove any remaining Goo Gone.
For carpet, blot gently and avoid rubbing to prevent damage.
Pros
Versatility: Goo Gone can tackle a wide range of sticky situations, making it a versatile solution.
Safe for Surfaces: Its gentle formula ensures it won't harm surfaces, even on carpet.
Efficiency: Users appreciate how quickly it works, saving time and effort.
Cons
Odor: Some users find its scent strong, though it dissipates after use.
Residue: Occasionally, Goo Gone may leave a slight oily residue that requires an extra wipe-down.
Goo Gone stands out as the best adhesive remover due to its exceptional versatility, safe formulation, and efficiency.
Read More About: Shoe Goo Vs Loctite Shoe Glue
Head-To-Head Comparison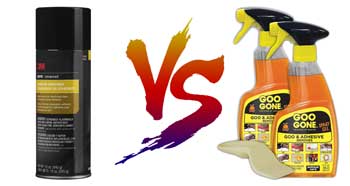 3M Adhesive Remover is often the ideal choice for those seeking affordability, with a competitive price compared to Goo Gone.
It's a versatile adhesive remover that effectively tackles various adhesives, making it suitable for multiple applications.
Price Comparison
Goo Gone, while slightly pricier, is a potent citrus-based adhesive remover renowned for its effectiveness in removing a wide array of adhesives, including stubborn tar residues. Its degreasers ensure thorough cleaning.
Effectiveness In Removing Different Types Of Adhesives
In terms of safety, 3M Adhesive Remover contains ethylbenzene, which should be used with caution in well-ventilated areas due to its fumes.
Conversely, Goo Gone, being citrus-based, generally poses fewer safety concerns and is user-friendly.
Safety Considerations
Goo Gone boasts a safer profile, relying on natural citrus oils, while 3M Adhesive Remover contains potentially harmful chemicals like ethylbenzene and methanol.
For safety-conscious users, Goo Gone might be the ideal choice for everyday adhesive removal tasks.
Environmental Impact
Both products are mindful of the environment. 3M Adhesive Remover utilizes methanol, which has a relatively low environmental impact if used sparingly.
Goo Gone, thanks to its natural citrus ingredients, is also eco-conscious, making it an eco-friendly choice.
Goo Gone vs 3M: User Reviews And Experiences
3M Adhesive Remover
Users praise the 3M Adhesive Remover for its effectiveness in tackling stubborn adhesive residue. It's designed to remove adhesive properties shine through as it effortlessly dissolves the glue, leaving surfaces clean.
Goo Gone
Goo Gone earns accolades for its versatility in handling various adhesive mishaps. Users appreciate its original formula for being gentle on surfaces, yet potent enough to eliminate sticky messes.
Also Check: Loctite Blue Vs Red
Tips For Choosing The Right Product
When choosing the best adhesive or any product, consider your specific needs, budget, and quality. Research different brands and read reviews to ensure you make an informed decision.
For tasks like removing sticky residue, a bottle of Goo Gone might be your ideal choice due to its proven effectiveness.
How Do You Remove 3m Adhesive From Walls Without Damaging Paint?
To remove 3M adhesive from walls without damaging paint, start by gently clearcoating the affected area with a layer of cooking oil or rubbing alcohol.
Allow it time to dry for a few minutes, then use a plastic scraper or credit card to easier to remove the softened adhesive while being careful not to scrape the paint. Repeat if necessary and clean the residue with soapy water.
How to Remove Adhesive Without Alcohol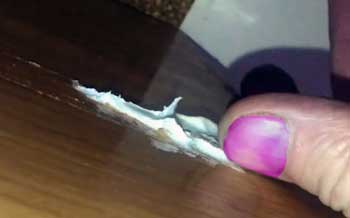 Gather Your Supplies: You'll need a few items such as a plastic scraper, a soft cloth, warm soapy water, and a hairdryer.
Heat the Adhesive: Use the hairdryer on a low setting to gently warm the adhesive. This helps soften it, making it easier to remove.
Scrape Gently: Once the adhesive is warm, use the plastic scraper to gently scrape it off. Be careful not to scratch the surface you're working on.
Soapy Water: Dampen the soft cloth with warm soapy water and gently rub the area to remove any residue. Continue until the adhesive is gone.
Rinse and Dry: Finally, rinse the area with clean water and dry it thoroughly with a clean cloth.
Also Read: Cpvc Vs Pvc Glue
How to Remove Extreme Adhesive
Safety First: Extreme adhesives may require strong solvents, so ensure you have proper ventilation and wear gloves and eye protection.
Test a Small Area: Before applying any solvent, test it on a small, inconspicuous area to ensure it won't damage the surface.
Apply Solvent: Apply an adhesive remover or solvent specifically designed for extreme adhesives. Follow the manufacturer's instructions carefully.
Let It Sit: Allow the solvent to sit on the adhesive for the recommended time. This will soften the adhesive.
Scrape Carefully: Use a plastic scraper or a soft cloth to gently scrape away the adhesive. Be patient and avoid using excessive force.
Clean and Rinse: Wipe the area with a clean cloth to remove any remaining residue. Rinse with water and dry thoroughly.
Also Read: Tape For Ostomy Bags
How to Remove 3M Adhesive from a Laptop
Prepare the Laptop: Turn off your laptop and unplug it from any power source. Ensure it's cool to the touch.
Peel Off What You Can: Use your fingernail or a plastic scraper to gently peel off as much of the 3M adhesive as possible.
Heat the Residue: Use a hairdryer on a low setting to warm the remaining adhesive. This will soften it.
Scrape Gently: Once softened, carefully scrape the adhesive off with a plastic scraper. Take your time to avoid damaging the laptop's surface.
Remove Residue: Any residue left behind can be tackled with a soft cloth soaked in warm soapy water. Rub gently to remove the adhesive.
Clean and Dry: Wipe the laptop clean with a damp, clean cloth to remove soap residue, and then dry it thoroughly.
How Do You Remove 3m Adhesive?
To remove 3M adhesive, follow these steps:
Gather Supplies: You'll need rubbing alcohol, a clean cloth, a plastic scraper, and gloves for protection.
Ventilate Area: Work in a well-ventilated space to avoid inhaling fumes.
Put on Gloves: Wear gloves to protect your skin.
Apply Rubbing Alcohol: Moisten the cloth with rubbing alcohol.
Test a Small Area: Test a small, inconspicuous area first to ensure the alcohol won't damage the surface.
Soak the Adhesive: Dab the adhesive with the alcohol-soaked cloth. Let it sit for a few minutes to soften.
Scrape Gently: Use the plastic scraper to gently lift the adhesive. Be cautious not to damage the surface.
Repeat as Needed: If residue remains, reapply alcohol and continue scraping.
Clean and Dry: Once the adhesive is gone, clean the surface with soapy water and dry it thoroughly.
Dispose of Materials: Dispose of the adhesive and cleaning materials properly.
Goo Gone Alternative
If you're seeking a Goo Gone alternative, consider using vinegar, a baking soda paste, or PVC pipe cleaner, each effective in removing stubborn residues and adhesives.

Frequently Asked Questions About 3m Adhesive Remover Vs Goo Gone
1. What Is The Most Powerful Adhesive Remover?
The most powerful adhesive remover is often considered to be Goo Gone.
2. What Is Stronger Than Goo Gone Adhesive Remover?
Some adhesive removers stronger than Goo Gone include acetone, isopropyl alcohol, and specialized industrial solvents.
3. Does Goo Gone Work On 3m Adhesive?
Goo Gone can work on 3M adhesive, but it may require some time and effort to fully dissolve the adhesive residue.
4. What Is Stronger Than Goo Gone?
Acetone, xylene, and some commercial adhesive removers are stronger than Goo Gone for tough adhesive removal.
5. What Is The Best Solvent For Removing Adhesive?
The best solvent-based adhesive remover depends on the specific adhesive and surface; options include acetone, isopropyl alcohol, and citrus-based solvents.
6. Does Wd-40 Remove Adhesive?
WD-40 can help remove some adhesives, but it may not be as effective as specialized adhesive removers.
7. Is Goo Gone Effective?
Goo Gone is generally effective for removing adhesive residues from various surfaces.
8. Is 3m Adhesive Remover Safe On Plastic?
3M adhesive remover is generally safe on plastic surfaces, but it's essential to follow the manufacturer's instructions and test on a small area first.
Read More About: Krazy Glue Vs E6000
Conclusion
In conclusion, when comparing 3M Adhesive Remover vs. Goo Gone, both products are effective at removing sticky residues, but your choice may depend on specific needs and preferences.